A FAB VIDEO FROM GUILFORD VTS ON CBDs

WHAT IS THE POINT OF DOING CBDs?
THE CBD PROCESS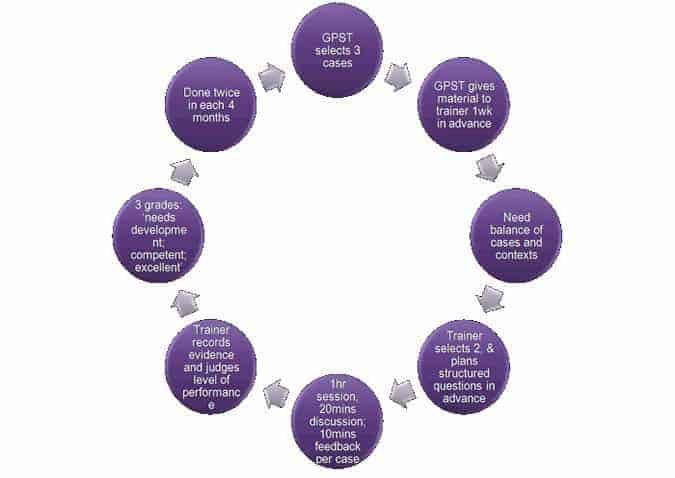 You need to do a MINIMUM of
3 CBDs per 6 months in ST1
3 CBDs per 6 months in ST2
6 CBDs per 6 months in ST3
Remember, this is the MINIMUM – you should aim to do lots more!  In hospitals, CBD happens in the same cyclical way displayed above EXCEPT the trainee presents 2 cases from which one is selected (not three as in the diagram above).
CBD isn't what most people understand by case discussion – it's a formal, structured exercise which needs preparation by both trainee and educator.  The discussion should be framed around the actual case and should not explore hypothetical events.  Questions should be designed to elicit evidence of specific competences rather than testing knowledge.
The assessor may select 3 or 4 competencies to look at but others may select more.  It depends on several factors such as the experience of the assessor in assessing CBDs and how 'meaty' the subject matter becomes.   The competencies are:
Practising holistically
Data gathering & interpretation
Making a diagnosis/decisions
Clinical Management
Managing medical complexity (trainees often struggle with this one)
Primary care admin and IMT
Working with colleagues and in teams
Community orientation (trainees often struggle with this one – by the way, it's difficult to get in hospital posts!)
Maintaining an ethical approach
Fitness to practise  (trainees often struggle with this one)
The competences are graded on a clearly defined 4-point scale – we'd expect trainees to progress from 'needs further development' to 'competent', and rarely achieve 'excellent' which is a description of a mature practitioner
Insufficient evidence: from available evidence, cannot be placed on a higher point of this developmental scale.
Needs further development: Rigid adherence to taught rules or plans. Superficial grasp of unconnected facts. Unable to apply knowledge. Little situational perception or discretionary judgement.
Competent: Accesses and applies coherent and appropriate chunks of knowledge. Able to see actions in terms of longer-term goals. Demonstrates conscious and deliberate planning with increased level of efficiency. Copes with crowdedness and is able to prioritise.
Excellent: Intuitive and holistic grasp of situations. No longer relies on rules or maxims. Identifies underlying principles and patterns to define and solve problems. Relates recalled information to goals of present situation and is aware of the conditions for application of that knowledge.
Question: To be classed as 'competent', does the trainee has to satisfy every single one of the descriptors in the list for that competency?
Answer: No – the descriptors are just there to give you a general idea of the sort of thing which is required. It is always worthwhile having the competency descriptors in one hand and your CBD question maker list in the other. After you've asked the questions you've developed for the CBD case see how the trainee's response fits in with the competency descriptors list.
The competency descriptors list can be downloaded from the downloads box above.
Case selection is important; it is a case based discussion, so preferably choose cases with a number of contacts, not just a one-off consultation. If the case is straightforward it would be difficult for you to demonstrate excellence, because the level of challenge might be low. We would urge you to be courageous and pick patients that were challenging, difficult, hard work, complex or interesting.  At first, you might think you will fail to get any competencies but you would be surprised.  Trust me on this one – these complex cases often help furnish strong evidence for a number of competency areas.
You can facilitate a good CBD outcome by providing a commentary, or summary of why you chose that case and indicate which competences you think the case allows you to demonstrate.   Of course, this is in addition to submitting the relevant clinical records.  You can find a  CBD summary template in our downloads box above for this purpose.
Only pick 3-4 competencies that you want to be tested on; if you feel the case demonstrates say 8 or 9 of them, then it will be a) difficult for the trainer to decide what to focus on and b) impossible for them to explore the whole 8 or 9 items in any true depth within a 20 minute discussion.  Some very experienced trainers can assess 8 or 9 competency areas in one go, but don't be surprised if your trainer picks 3-4.    And sometimes – it depends on how complex the issue under discussion becomes.  So, try and pick the 4 that you think demonstrate your strongest points in that case or alternatively are areas that are currently weak in your ePortfolio and that you need more evidence of.
 As you build up cases, try and map out which competency areas are weak and try and pick future cases to meet these areas.