[box style="rounded" border="full"]
DOWNLOADS
path: WORK-PLACE BASED ASSESSMENT
<< Need a link to the LTFTT page>>
There are lots more downloads available when you click on a specific WPBA component from the navigation menu above
[/box]IMPORTANT POINTS
RESPONSIBILITY: It is the responsibility of the trainee to ensure that they complete the appropriate assessments and build up a record of their training and evidence of competence AT THE APPROPRIATE TIMES through the ePortfolio. It will be the trainee who tells their trainer/hospital consultant when they are ready to do a specific type of assessment (not the other way around).
 NEEDS FURTHER DEVELOPMENT: Please do not see 'needs further development' as a failure. We expect you to have quite a few 'needs further development' especially if you are in ST1 or ST2. If you had all "competent" or "excellent" grades in ST1 or ST2, we'd be worried – how can you have no learning needs at such an early stage in your training.
HELP HOSPITAL CONSULTANTS:  Some of your hospital colleagues may not be that familiar with what they are doing in the assessments. Whilst they are being trained up, we would urge you to attain a good level of understanding of how the assessments work and what each domain or competency means so that you are empowered to help your consultant. In this way, we are sure that your hospital colleagues will get the hang of them in no time and will really help you to get the best out of these. So, please help them.
WBPA – an overview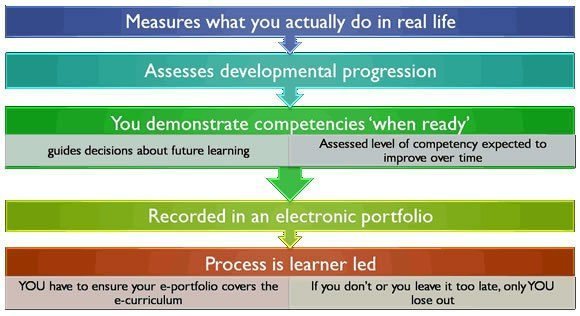 [highlight]Remember, you decide when these assessments take place (usually when you feel you are ready), but don't overlook the minimum number you have to do in each post.[/highlight]
WPBA – COMPULSORY COMPONENTS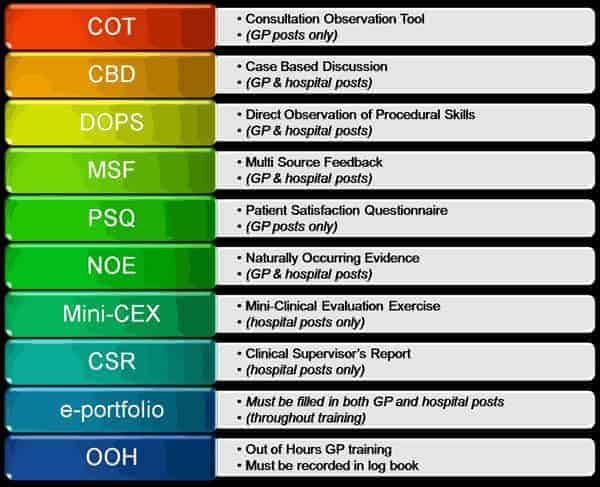 WPBA will look at relationships with colleagues, continuity of care, patient centredness/empowerment/satisfaction .
The WPBA tools are designed to capture evidence of performance in a structured and formative (developmental) way. It is important to note that there is no pass/fail standards in any of these work-place based assessments. The tools simply serve to harvest information and provides the supervisor with material for feedback and identification of learning needs.
Therefore, not reaching the required standard in one element of WPBA does not necessarily lead to failure of WPBA. Because there is an overlap in some of the competencies being tested by the different components of WPBA, poor performance in one component will result in looking for the those competencies in the other components to see if you made up for it there; they look at the overall picture.
[toggle title_open="CAN YOU GIVE ME SOME GUIDANCE" title_closed="CAN YOU GIVE ME SOME GUIDANCE (click to open me)" hide="yes" border="yes" style="default" excerpt_length="0″ read_more_text="Read More" read_less_text="Read Less" include_excerpt_html="no"]
You should expect that many assessments will be delivered during protected (tutorial) time.
You need to bear in mind which assessments need to be completed in each post and organise them.
You decide when these assessments take place.
Pace yourself; your trainer or hospital consultant will not appreciate it if you try and fit all the assessments into the last few weeks of your post.
Give your trainer or hospital consultant adequate notice ("Can we do a CBD next week?").
Preparation is either necessary or strongly advised: for instance, case selection is very important, as different cases will allow demonstration of different competences, and you need to cover all of them to complete WPBA.
Click on a section in the sub-menu above to find some specific guidance on each of these components.
[/toggle]
[toggle title_open="SOME QUICK POINTS" title_closed="SOME QUICK POINTS" hide="yes" border="yes" style="default" excerpt_length="0″ read_more_text="Read More" read_less_text="Read Less" include_excerpt_html="no"]
Here are some quick bits of information you should know right now:
Some clarity on what some of the Curriculum Statement headings mean:

Teaching, Mentoring and Clinical Supervision means the teaching the trainee has has been involved with and/or delivered, NOT the educational experiences which they have received.
Management in General Practice means organisational management, NOT the clinical management of patients.

DOPS

There's no point recording previous experience which hasn't been directly observed. It's essential to get the ePortfolio entries for the compulsory DOPS put in by whoever observed the procedure. If this isn't done, the ARCP panel will bounce your ePortfolio when it's submitted for CCT at the end of ST3.   Also, the procedure has to be on a patient and not, for example, in a skills lab on a dummy.

COTS

Try and get your GP trainer to do some COTS via directly observing you in real time in a joint surgery consultation (as well as the usually method of doing it via video recordings).   This will help you prepare for CSA and will help you get a bit more comfortable with consulting when someone is watching.   Also, it means that a range of normal consultations are observed by the trainer, not just the good ones which trainees tend to select for COTs

OOH (Out of Hour work)

The educational reason for doing OOH is for trainees to acquire the relevant competencies in case they wish to participate in Out of Hours once they qualify.  Simply recording the number of sessions worked doesn't provide evidence of this. Trainees must record a brief list of paitents seen (and what was done) and reflect  on one or two of the interesting ones which they think will help them provide evidence for curriculum coverage as well as some of the professional competencies.
[/toggle]
[toggle title_open="WHAT IS THE STANDARD AGAINST WHICH I AM ASSESSED?" title_closed="WHAT IS THE STANDARD AGAINST WHICH I AM ASSESSED?" hide="yes" border="yes" style="default" excerpt_length="0″ read_more_text="Read More" read_less_text="Read Less" include_excerpt_html="no"]
In the early stages of training (ST1/2) it is unlikely that the GP trainee will be able to provide evidence of readiness to practise. The structured evidence, considered against the competence framework, will highlight the areas where the trainee is doing well and those areas where more learning and support is needed. Thus each of the reviews will lead to a learning plan designed to enable the trainee to collect more evidence of competence and to build up a richer picture of readiness for practice.
The standard against which the the trainee is judged is always the level of competence expected of a doctor who is certified to practise independently as a general practitioner. This standard is used throughout the three years of training. This means that in the first two years of training the trainee is being judged against the standard they should have reached at the end of training. Inevitably there will be less evidence from the application of the WPBA tools in the first two years of training, and more developmental needs will be identified. This is what the assessment system is designed to do, so that further training experiences can be directed toward the developmental needs of the trainee.  The GP trainee must show competence in all twelve competence areas by the end of year 3.
[/toggle]
[toggle title_open="HOW MUCH EVIDENCE OF EACH COMPETENCY DO I NEED IN ORDER TO COMPLETE WPBA?" title_closed="HOW MUCH EVIDENCE OF EACH COMPETENCY DO I NEED IN ORDER TO COMPLETE WPBA?" hide="yes" border="yes" style="default" excerpt_length="0″ read_more_text="Read More" read_less_text="Read Less" include_excerpt_html="no"]Assessment of competences is about making a qualitative judgement not a quantitative one. We would expect that at the end of ST3 the trainee will have several sets of evidence in each competence area, collected from a range of settings and through different tools. However, the only requirement is that there is enough evidence to enable the trainer to feel confident that the trainee is competent to practise. Each portfolio will look slightly different, but it should provide a rich picture of competence built up over three years. The "ticks" in the ePortfolio are simply a way of keeping a shared, transparent and systematic record of evidence.[/toggle]