FEEDBACK IS…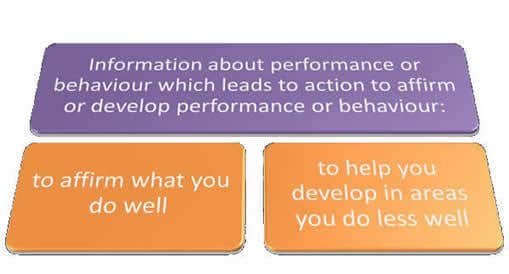 Feedback on your performance comes in many ways and is much more than the mark, grade or comments associated with assignments and exams. Using the feedback you are given is an essential part of your learning process and you should use it to help you progress. Look on feedback as being constructive, even if it appears critical of your performance.
WHAT TYPE OF FEEDBACK MIGHT YOU GET?
Written or verbal individualised feedback -- for example, on a particular assignment, how well you consulted and so on.
Written structured feedback based on a pre-set checklist or proforma -- like the CBD assessment sheet, DOPs and so on.
Free and spontaneous feedback -- 'off the cuff' comments from others.
PLEASE BE RECEPTIVE TO FEEDBACK
You will get feedback from people all around you, not just your Trainer or Hospital Consultant.   In fact, you will even get feedback from all sorts of people in your personal life.   And you should listen to what these people have to say.   Unlike you, they can see the way you talk, behave, perform, act and so on.   Whilst some may not be particularly good at giving you feedback in a sensitive way, what they say may be valid and true.   Most of our trainers have been trained at giving feedback in a sensitive way.   Please bear in mind that they genuinely want you to succeed, even if they have something critical to say.   When receiving feedback you have a choice whether or not to accept what you are told. Please avoid rejecting what has been said, arguing or being defensive.   Please try and step out of your emotion and consider accepting it instead -- and also remember that the critical feedback they've given you might not have been that easy for them to say.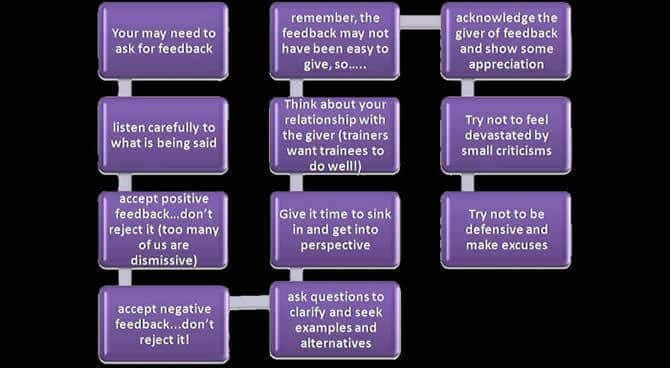 FEEDBACK FOR EDUCATORS
[toggle title_open="WHAT ARE THE BASIC PRINCIPLES FOR GIVING EFFECTIVE FEEDBACK?" title_closed="WHAT ARE THE BASIC PRINCIPLES FOR GIVING EFFECTIVE FEEDBACK? (click to open me)" hide="yes" border="yes" style="default" excerpt_length="0″ read_more_text="Read More" read_less_text="Read Less" include_excerpt_html="no"]
Effective feedback is that which gets the message across clearly, is accepted by the receiver and results in a positive change in performance or behaviour.   The following principles increase the chances of giving feedback clearly, smoothly and it being accepted by the receiver.
Giving feedback is an incredibly important skill and forms the basic foundation building blocks for any educator.  So make sure you practise and fine tune your feedback skills in order to master the art of giving it. In fact, giving feedback is important in all aspects of your life (e.g. work, personal relationships etc) and therefore may add big improvements to your life in general.   Please read some of our feedback documents in the downloads box above -- and there's even more in our 'Online Resources' section -- click 03-07 Teaching & Learning > Feedback
In Summary, useful feedback should:
Be well timed
Given enough time
Given full attention/no interruptions
Both people should feel calm
If possible, receiver should feel prepared
Involve mutual goodwill
Receiver should feel that the giver isn't their enemy
Giver needs to want to help receiver develop
[/toggle]
[toggle title_open=" HOW CAN I TELL WHETHER MY FEEDBACK HAS BEEN EFFECTIVE? " title_closed=" HOW CAN I TELL WHETHER MY FEEDBACK HAS BEEN EFFECTIVE? " hide="yes" border="yes" style="default" excerpt_length="0″ read_more_text="Read More" read_less_text="Read Less" include_excerpt_html="no"]
Feedback is effective when the trainee takes on board what you have said (i.e. agrees & readily accepts) to the extent that it results in a positive change in their performance or behaviour. In more simple terms, effective feedback happens when:
you stop this
from turning into this
[/toggle]