[box style="rounded" border="full"]
DOWNLOADS
QUICKLINKS
Old Files
CBD mapping form  (standalone version – no need to use this – should be using The ES workbook)
COT maping form (standalone version – no need to use this – should be using The ES workbook)
mini-CEX mapping form (standalone version – no need to use this – should be using The ES workbook)
[/box] The information in these pages is for GP trainees, Educational Supervisors, Clinical Supervisors, TPDs and ARCP panel members. By having everything all in one place, it is hoped that there will be a greater level of shared understanding amongst all stakeholders.  In these pages you will see the Educational Supervisor referred to as ES, the Clinical Supervisor as CS and the Training Programme Director as TPD.
WHAT EXACTLY IS EDUCATIONAL SUPERVISION?
Educational Supervision is 'a positive process to chart an individual's continuing progress and to identify development needs. It is a forward-looking process essential for the development and educational planning needs of an individual.'  Please don't be scared of these meetings.   Their purpose is to help you along your training journey in order to make it as smooth as possible.    Its educational aims are to
Facilitate your personal and professional development.

Encourage reflection.

Identify your educational/development needs.

Formulate an educational plan which you may wish to share with your trainers.
But it does more than this.   It helps you to keep on track for General Practice whilst you're in hospital posts.   It also helps you to develop a relationship with your Educational Supervisor – one which is built on openness, honesty, integrity and trust.  On a pastoral level,  hopefully you will be able to confide in your Educational Supervisor of your difficulties, who will then be able to provide support in return.
Educational Supervision (ES) is a process which
Involves regular meetings between teacher and learner with support for the benefit of the learner.
Helps identify a learner's strengths but also their difficulties so that these may be helped to be put right within the framework of the objectives set at the start of the programme.
Is confidential (except in defined circumstances), primarily educational and developmental, and designed to help the individual to progress.
Is positive and forward-looking:  giving someone feedback on their performance, charting their continuing progress, identifying developmental needs and putting an educational plan into place.  So, please try to see it as a positive thing.
By now, it should be clear to you that a key feature of this process is that it is built on a supportive and facilitative relationship between two people.  Taking part in this process should prove rewarding: professional development supported in this way enriches working life, increases job satisfaction and should enable you to respond effectively to clinical, organisational and social change.
THE ES MEETINGS
Following on from the definition of ES, the ES meetings are there to help the learner by
Ensuring that they are on track for GP training.
Picking up on any difficulties they may be experiencing – whether personal or with the post so that they can iron these out and get the trainee back on track for training.
Communicating to others (e.g. programme directors) whether or not the trainee is doing okay – thereby developing a network of support if they are not.
Helping them with educational planning and helping them to develop in those areas where there is an identified need.
WHAT SORTS OF THINGS WILL BE COVERED IN THE ES MEETING?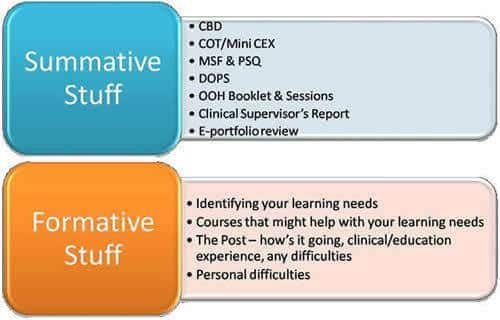 The supervision meetings will contain summative and formative elements. It is NOT about one or the other – it's about both.  To able to carry out effective Educational Supervision meetings tailored to the trainee's individual needs, the Educational Supervi
Check the learning log – to see if the trainee is making reflective learning entries with adequate coverage of the curriculum and evidence for the demonstration of the 12 Professional Competencies.sor will need access to (and thus review) their e-portfolio. The trainee's workplace-based evidence as recorded in the e-portfolio will be reviewed to ensure that they are doing the right number of things at the right times and making effective progress.  For instance, the ES will
Review the MSF, PSQ and Clinical Supervisor's Report – to see whether these different groups of people are happy with the trainee.   Each of these reports are considered to be quite good discriminators of how a trainee is doing.
Talk to the trainee about their difficulties (either at work or in their social lives) which may be interfering with learning and find a way forwards of making things better.
All of this will generate a Educational Supervisor's Report with an embedded agreed learning plan individually tailored to the trainee and collaboratively formulated.   As you can see, Educational Supervision is particularly useful for identifying trainees with difficulties so things can be put in place to help training go more smoothly and successfully.  However, for this to work requires honesty and openness on both sides. We hope the Educational Supervisor will create a safe climate in which this can happen.
[highlight]Educational supervision is not about disciplinary procedures but more about helping the trainee overcome or see them through the difficulties.[/highlight]
WHAT HAPPENS IF I GET A POOR EDUCATIONAL SUPERVISOR'S REPORT?
In the first instance, your friendly Educational Supervisor will try and help you identify what it is that you need to do to get your ePortfolio and the evidence within it 'up to scratch'.   Please listen to the feedback that they give you.  If you find the feedback that they give you uncomfortable and difficult to accept, rather than rejecting it, please remember that it was probably hard feedback for them to give to you in the first place.  No body likes telling other people about their deficiencies, but the problem is that if no one does, then you never improve.
The Educational Supervisor may involve other people to try and HELP you.  For instance, they may seek the advice of the Training Programme Directors and even the deanery.   Again, please remember that they're not being nasty by doing this.  They just want to make sure that there is a network of people ready to support you.
And finally, [highlight]if after repeated advice you fail to take that on board and your ePortfolio continues to show a lack of evidence appropriate to your training stage, then you will be referred to an ARCP panel which may involve you attending an interview.    In some cases, a trainee's rotation and training programme has been terminated early if it is felt that they are unlikely to make the grade with the remaining time left on the scheme. [/highlight]  Deaneries have the power to do this and therefore it is important that you take your ePortfolio seriously.    By the way, if you are moving an ST stage (i.e. from ST1 to ST2 or ST2 to ST3 etc.) then your ePortfolio and ES report and routinely reviewed by an ARCP panel anyway, even if the ES thinks you are okay.   This is because the panel for each scheme needs to be sure themselves that their trainees are good enough to be let through to the next ST stage.   It cannot be emphasised enough how important it is for your to devote time to your ePortfolio right from the start, and take it seriously by showing it the respect it deserves.
[toggle title_open="I GET CONFUSED – WHAT'S THE DIFFERENCE BETWEEN THE CLINICAL AND EDUCATIONAL SUPERVISOR? " title_closed="I GET CONFUSED – WHAT'S THE DIFFERENCE BETWEEN THE CLINICAL AND EDUCATIONAL SUPERVISOR? " hide="yes" border="yes" style="default" excerpt_length="0″ read_more_text="Read More" read_less_text="Read Less" include_excerpt_html="no"]
Throughout training, the GP trainee will have one Educational Supervisor and several Clinical Supervisors. They will have regular reviews with both. However, don't confuse the two. Each aims to do different things as illustrated in the table below.
[table id=3 /]
[/toggle]
[toggle title_open="IMPORTANT QUICK NOTES FOR THE GP TRAINEE " title_closed="IMPORTANT QUICK NOTES FOR THE GP TRAINEE (click to open me)" hide="yes" border="yes" style="default" excerpt_length="0″ read_more_text="Read More" read_less_text="Read Less" include_excerpt_html="no"]
You must do the following before your official ES meeting.  All of the suggested documents and tools are available from the downloads box above.  This will help make your meeting more productive FOR YOU.   Not engaging with some of these things could result in an UNSATISFACTORY ES report and thus a referral to the deanery ARCP panel.  Now you surely don't want that do you?
Read through all of this webpage on Educational Supervision.
Read through our webpage 'Educational Supervision – FAQs'
Read the 'E-portfolio Pearls' document in the downloads box above (if you haven't already done so).
Systematically go through the document 'ES preparation check-list for trainees'
Specific points to remember:
Your Educational Supervisor and the ARCP panels will look to see what's in your ePortfolio. They are basically looking to see if you have provided evidence to demonstrate the 12 professional competencies (which you ultimately have to demonstrate in order to become a GP).  Are you familiar with them?  Do you know exactly what they mean?   If not, read the document 'The 12 Professional Competencies' available in the downloads box above.
Make sure your e-portfolio is up to date and that you're writing log entries in a timely way, aiming for 1-2 per week with a good spread of kinds of log entry, evidence for the different competences, and coverage of the curriculum.
Make sure you've done the minimum number of COTs, CBDs and mini-CEXs – please bring the mapping sheets (available on our web) for the whole of your current ST period.   Upload these onto your ePortfolio and bring paper copies on the day of your ES meeting.  The best place to upload them is under Professional Conversations and give them a title like CBD mapping form ST2-1 (ST2-1 means the first post of year ST2; the second post would be ST2-2).
Please note that the minimum number of assessments MUST be done by the time you have your ES meeting.   For instance, if you have 6 CBDs that you need to do and have done 5 but plan to do one after your ES meeting but before the time your post finishes – you will be marked as unsatisfactory.   Also remember that THE MINIMUM number of CBDs and COTs etcetera are exactly that – the minimum number.  You should be aiming to do lots more than just 6 CBDs and 6 COTs.  The way you must think of this is to see it as evidence – the more evidence there is to demonstrate the 12 competencies, the more you are likely to sail through your ARCP panel and thus training.

Check to see that you've done an

MSF and PSQ

if they are appropriate for where you are at (see document '

Assessments – which one at which stage')

Do the

self-rating competencies

and in particular – provide evidence for you competency ratings.  (see document

'Finding the evidence for the Rating Scales'

)

Upload your

OOH sessions, HDR attendance, Weds tutorial attendance

,

sickness leave

and the

Form R

(

Form R available on this link

;  all other documents on

this Deanery link

).

Check to see that you've got 3-4

PDP entries

for you current post and that you are achieving them.

Finally, make sure you have got your Clinical Supervisor (usually hospital consultant or GP trainer if in a GP post) to fill in the

Clinical Supervisor's Report

on the ePortfolio.

Look at the checklist I have created for you on the web. 

www.bradfordvts.co.uk/educational-supervision/ed-supervision-trainee-preparation
[/toggle]
[toggle title_open="IMPORTANT QUICK NOTES FOR THE CS, ES AND TPD " title_closed="IMPORTANT QUICK NOTES FOR THE CS, ES AND TPD " hide="yes" border="yes" style="default" excerpt_length="0″ read_more_text="Read More" read_less_text="Read Less" include_excerpt_html="no"]
WPBA won't necessarily pick up struggling trainees or poor performance all the time. Therefore the information from Educational Supervisors (ES) will be key as they make the most comprehensive review of all the evidence.

Communication between ES, CS (Clinical Supervisor) and TPDs is fundamental if concerns arise.

"The trainee describes, interprets and reflects. The educational supervisor describes interprets and evaluates".

   As an ES, please do some multiple sampling of the evidence in order to provide "triangulation and justification".  In other words, please tap into enough random learning log entries, PDPs, WPBA evidence, NOE and so on UNTIL you feel you have developed a good enough picture of the trainee.
[/toggle]
[toggle title_open="WHAT STANDARDS ARE USED? " title_closed="WHAT STANDARDS ARE USED? " hide="yes" border="yes" style="default" excerpt_length="0″ read_more_text="Read More" read_less_text="Read Less" include_excerpt_html="no"]
In the early stages of training it is unlikely that the GP trainee will be able to provide evidence for the readiness to practise. The structured evidence, considered against the professional competency framework, will highlight the areas where the GP trianee is doing well and those areas where more learning and support is needed. Thus each of the reviews will lead to a learning plan designed to enable the trainee to collect more evidence of competence and to build up a richer picture of readiness for practice.  [highlight]The standard against which the GP trainee is judged is always the level of competence expected of a doctor who is certified to practise independently as a general practitioner (i.e. a qualified GP). [/highlight] This standard is used throughout the three years of training.   This means that in the first two years of training the trainee is being judged against the standard they should have reached at the end of training. Inevitably there will be less evidence from the application of the WPBA tools in the first two years of training, and more developmental needs will be identified. This is what the assessment system is designed to do, so that further training experiences can be directed toward the developmental needs of trainees.  So, it's okay for a ST1 or ST2 trainee to have many areas that "Need Further Development"; they just need to work on them with time.   This also means that GP trainees need to get comfortable with the grade 'Needs Further Development' – which is a grade they may not have ever received until now.    Trainees need to realise that 'Needs Further Development' is NOT a failure or fail grade.  It simply means that they need to work on a particular area to become stronger in it.    All of us as human beings have 'needs further development' in all aspects of our lives.  Having said all of that, GP trainees must show competence in all 12 competence areas by the end of year 3 (ST3).
Trainers are expected to use their personal experience as a GP to judge whether the evidence for each competence area and the totality of evidence indicate that the GP trainee is ready for independent practice.   Trainees should respect this decision.
[/toggle]
[toggle title_open="HOW MUCH EVIDENCE IS DEEMED COMPETENT ENOUGH? " title_closed="HOW MUCH EVIDENCE IS DEEMED COMPETENT ENOUGH? " hide="yes" border="yes" style="default" excerpt_length="0″ read_more_text="Read More" read_less_text="Read Less" include_excerpt_html="no"]Assessment of competences is about making a qualitative judgement not a quantitative one. We would expect that at the end of ST3 the GP trainee will have several sets of evidence in each competence area, collected from a range of settings and through different tools.  [highlight]However, the only requirement is that there is enough evidence to enable the trainer to feel confident that the trainee is competent to practise.[/highlight] Each portfolio will look slightly different, but it should provide a rich picture of competence built up over three years. The "ticks" in the ePortfolio are simply a way of keeping a shared, transparent and systematic record of evidence.[/toggle]
NOW THAT YOU UNDERSTAND THE BASICS, READ THESE FAQs ABOUT EDUCATIONAL SUPERVISION TO UNDERSTAND THE INTRICACIES.