Bradford VTS Online Resources:
If you have files you would like me to host on here and share with others, OR if you would like to help develop these pages further, then please email me.  
rameshmehay@googlemail.co.uk
These two things underpin all domestic abuse and the grooming and exploitation of individuals
Controlling – isolate and regulate – makes a person subordinate or dependent – deprives them of the mean for independence
Coercive – act to hurt and intimidate, a continuing act or pattern of assault, threats, humiliation and intimidation – or other abus that is used to harm, punish or frighten their victim
The Care Act 2014 - 6 things
Accountability – we have a safeguarding statutory duty and responsibility
Proportionality – proportional response to the risk  (eg severe crime à police ASAP)
Empowerment – empowering the adult to make decisions
Protection – protecting the person
Prevention – to prevent it happening again
Partnership – working together to resolve the problem
PREVENT & Radicalisation in Teenagers
PREVENT is the governments counter-terrorism strategy to prevent people from being radicalised.  It's often the vulnerable that become radicalised.   The vulnerable like the homeless, those with learning disabilities, people struggling financially, children and so on.   It is important to safeguard these vulnerable people from such activities.  PREVENT  is all about safeguarding.
The diagram on the bottom right shows how violent or extremists people manage to move vulnerable people from a non-criminal space to a criminal one.   We can be the ones that help strengthen the wall the attempts to break the blue arrow.    But remember – only report the concern to the police – never take it upon yourself to investigate or challenge the aggressors – consider your safety and that of your family.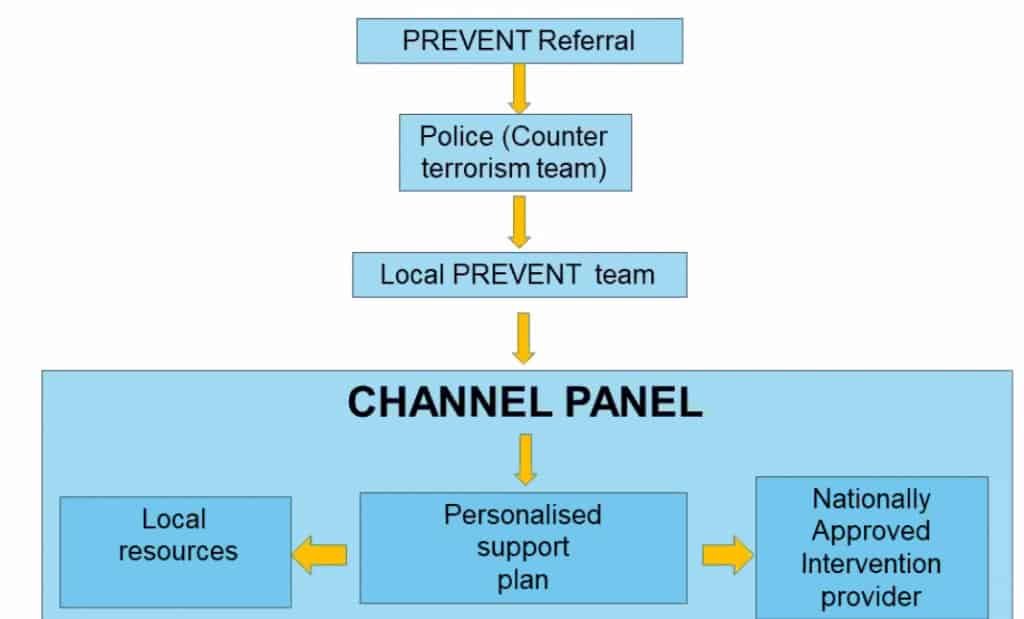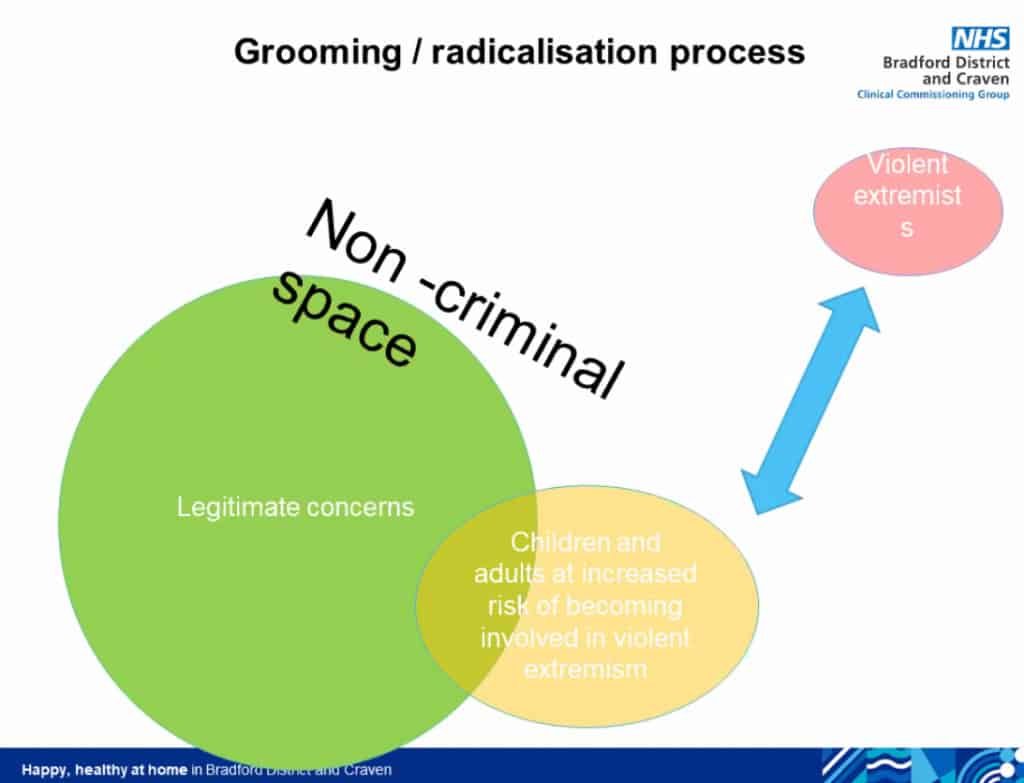 Modern slavery is global – 40+ million people are slaves.  And it's not just foreign nationals – British people are affected too.  In fact, more modern slavery victims IN THE UK are BRITISH!    More British slaves at our doorstep than in any other country!    The perpetrators pick on the vulnerable and promise them things like a better life, money, belonging to a caring community and so on.  They then take their documents off them so they can't leave.  And then come along the threats of what will happen to their families if they do.  Do you see how the cycle works?
VULNERABLE GROUPS
Mental Health
Those with alcohol and drug related issues.
Homeless
People with Disabilities
Children (1 in 4 victims are children!)
Source: UN, National Referral Mechanism Stats, Hope for Justice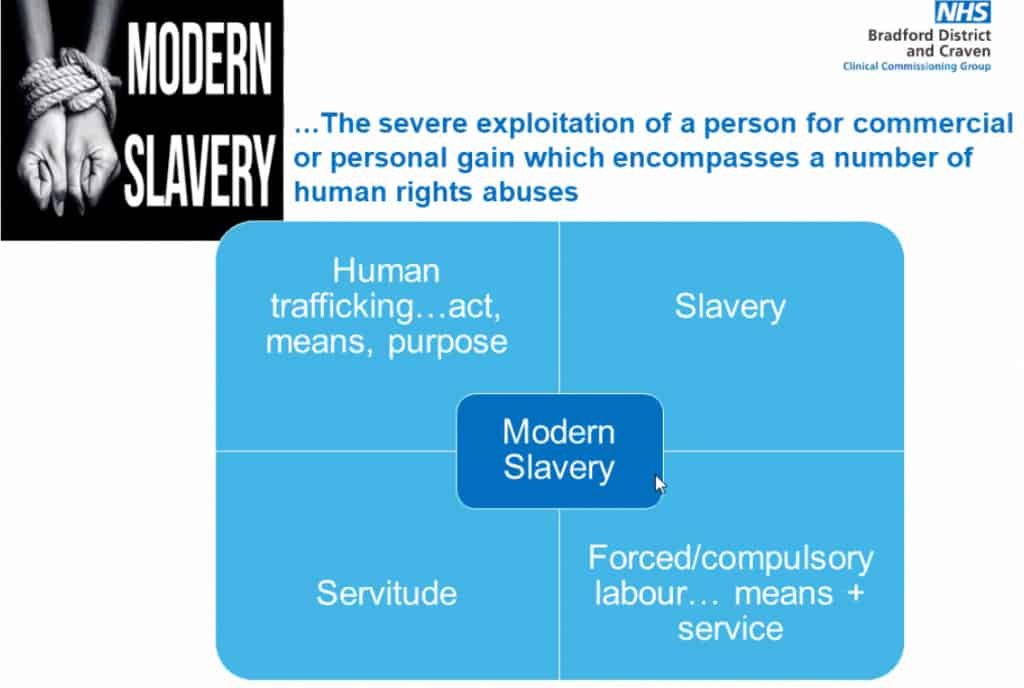 Which countries do the modern slaves in the UK originally come from?
Albania, Vietnam, UK (yes, you read correctly!), China & India
Keep an eye out!
SPOTTING THE SIGNS
Non-specific trauma, old injuries that have been untreated
Sexual trauma, STIs, teenage pregnancy/low late booking
Neglect, poor nutrition, poor dental hygiene
Stomach problems, back pain problems, TATT
Depression, anxiety, self-harm, withdrawn, submissive, looks distressed
Always accompanied, moves frequently/agitated, language barriers, isolated
No documentation, Not registered with GP, inconsistent info, always coming in for "emergencies"/on-call doc.
Socially – often goes missing,  lights on at their premises late, dropped off in the large group, lots of mattresses in the house when you do a home visit, people living in outbuilding/trailers
THE NATIONAL REFERRAL MECHANISM
If you believe your patient to be a victim of modern slavery then explain the National Referral Mechanism and  gain consent.   For more details click here.
Office hours only (9am-5:30pm Mon-Fri): 0300 008 8000
Outside of office hours:
Contact Crimestoppers on 0800 555 111.
DON'T FORGET, YOU CAN ALSO CONTACT YOUR LOCAL POLICE DEPARTMENT
101/Modern Slavery Helpline is 08000 121 700
Please leave a comment if you have a tip, spot an error, spot something missing or have a suggestion for a web resource. And of course, if you have developed a resource of your own, please email it to me to share with others.
'Make GP Training Better Together'