If you have files you would like me to host on here and share with others, please email them to me.  [email protected]
Most of the information on this page is for ARCP panel members.  However, if you're a trainee who has stumbled across these pages, please don't run off.  There's some information about ARCP panels for you too (towards the end of the page).    And of course, you might find it helpful to see what the panel members will be doing when they come to look at your ePortfolio – and the types of things they look for.  You can then tweak your ePortfolio to make sure it hits the right notes.
If you're an intending ARCP panel member, TPD or a scheme administrator, this page will prove invaluable reading.  Following the scheme below will help you develop an ARCP process that easily enables you to identify the struggling trainee but is light touch for the trainee who is progressing well.  There are two ARCP assessment forms available from the downloads box above – a detailed one and a brief one.   Inexperience panel members should use the detailed (10 steps…) one whilst the more experience should refer to the brief one (5 steps…).  However, even if you're experienced, you may wish to revert back to using the detailed one – especially for those trainees who are not progressing well – because it may help you define the problem area.
The ultimate purpose of ARCP panels is to determine whether trainees are progressing well towards competence. We're not asking you to look for excellence.  All we're asking you is to determine whether there is 'good enough' evidence of satisfactory progression. Don't lose sight of this.
It is often difficult to make a general picture of a trainee when looking at their individual assessments alone (like COTs and CBDs). That is why it is important to look at other reports (i.e. both Clinical and Educational Supervisor's), as well as the MSF and PSQ.  These things will provide different windows from which you can look at the trainee and help 'glue' everything together into a whole.
What are ARCP panels all about?
The ARCP stands for Annual Review of Competency Progression.  In other words, the ARCP panel  meets yearly to review how each trainee is progressing in terms of the 13 Professional Competences defined by the RCGP.  They do this by comprehensively reviewing their ePortfolio in a structured way.   It does not involve a face-to-face review of the trainee.   That is why maintaining the ePortfolio is so incredibly important – a trainee is judged via their ePortfolio, and not face-to-face.   Their ePortfolio is what represents them.   A bad ePortfolio will be interpreted as a bad trainee!
However, if a trainee is deemed to be doing well, they can then be signed off to go onto the next ST year (or be given their Certificated of Completion of Training – CCT – if they are in their final year).     For the ARCP panel to be able to sign the trainee off, on top of having the right number of Work-Place Based Assessments and log entries,  they have to have their Educational and Clinical Supervisor's reports uploaded.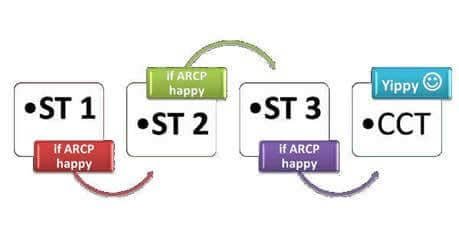 Local vs Central ARCP panels
| | |
| --- | --- |
| LOCAL ARCP PANELS | CENTRAL ARCP PANELS |
| Put together by your local GP Training Scheme. | Put together by your regional GP HEE School (formerly called Deanery). |
| Chaired by the local Training Programme Directors for that GP Training Scheme.   | Chaired by GP Educators working within the GP HEE School.   |
| Most (straightforward) trainees will have their ARCP done by LOCAL ARCP PANELS.   | The more complex ones or those that are in difficulty or cause for concern, by CENTRAL PANELS.  |
| Review the trainee electronically via their ePortfolio.   | Review the trainee both electronically and face-to-face.  |
| Cannot give extensions (if any trainees of concern – refer to central panels) | Can give extensions to trainees deemed to be making unsatisfactory progress. |
All ARCP panels – local or central – are a formal deanery sub-school of General Practice.  In any round of ARCP panels, each trainee who is due a panel has one panel with one outcome.   Most trainees will be assessed by their local ARCP panel run by their local GP Training Scheme.  If a scheme is concerned about a trainee who is making unsatisfactory progress, they will not award a grade but instead refer them to a CENTRAL panel who will decide how bad the level of unsatisfactory progress is and whether an extension is granted or in very bad performance, the trainee be released from training.  In all referrals to the central panel, the trainee will be told they will have a central panel and they have the opportunity to submit evidence of mitigating circumstances prior to the panel. The decision for a face-to-face or ePortfolio review is made on a case by case basis. The dates of central panels to be advertised in advance and trainees informed that they must make themselves available if required.
BEFORE the ARCP panel meeting
DURING the ARCP panel meeting
AFTER the ARCP panel meeting
When the panel is over…
The GP Scheme Administrator will email you the trainee feedback – so that you can read and tweak it.    Do the same for the feedback to the ES.  Send finalised versions back to the administrator to send.
The GP Scheme Administrator will also email you when it is permissible for you to log in and 'sign off' the trainees that were deemed satisfactory on your panel.  This step is incredibly important  and must be done in an expedient way.   This is especially important for the ST3s, as the sign-off triggers the CCT process.  The sign off can only be done through you panel chair log in (not your usual log in code).  
Send the chair (via email) the two lists of feedback for tweaking – Trainee feedback & Educational Supervisor feedback.  They will make them more receptive by removing harsh comments and through rewording.   They will then send the two finalised lists back to you.
Please 'cut and paste' the ARCP outcome and the feedback for the trainee into the Educator's Notes section of their ePortfolio.  In that way, the trainee, the Clinical Supervisor and the Educational Supervisor are well informed and can make plans for the future.   Also send a copy to the trainee's email.
Then send each Educational Supervisor their own specific ES feedback (but don't include their trainee).  
Let all panel chairs know when it is okay to log in as chair and sign off their 'GREEN' trainees off as satisfactory.
And of course, send out claim forms to the panel members along with the expected rates of pay.
Trainees - some things about ARCP for you
For the ARCP panel to be able to sign you off, they have to have your Educational Supervisor's Report uploaded.   Because the ARCP panel meet every Jan and June of each year, this means that you must get the Educational Supervision meeting preceding that ARCP panel done before the end of Dec and May respectively. 
So, for most full-time trainees, we recommend:
For Feb – Aug period: ES meeting in the month of May
For Aug – Feb period: ES meeting in the month of Dec.
For those that are Less-Than-Full-Time-Trainees (LFTTT) or Out-Of-Sync for whatever reason (e.g. extended leave), please read this page: 
Part-timers (LTFTTs), Maternity & Out of Sync Trainees
Here are some things trainees MUST do if they want their ARCP to go smoothly.  Remember, ARCP panels are a big deal.  If you have not performed satisfactorily, you will be called to a central GP School panel to explain yourself.  In some instances, GP Training is terminated early! 
The only information available to the panel is what is on the ePortfolio and visible using the administrator log in. This means that items in the learning log that are not marked as 'shared' will not be seen, nor will items saved in the 'personal library' section. It is the trainee's responsibility to make sure that all their work is uploaded appropriately.  For full guidance on how to make sure your ePortfolio is impressive and how to make it ARCP-ready, please read these two documents:  
Otherwise, follow everything on this checklist.  It is the same sort of checklist the ARCP panel will use on you.  
Some quick tips… 
Make sure you have had a recent

ES meeting.  If so, hopefully all the things below will have been done.    
Complete any missing/outstanding items from your ES meeting  e.g. WPBA, PDPs, OOH etc.
Upload your Form R – and detail any serious complaints and incidents.
Get a CSR done for each post
Please ensure there is a completed "ESR Workbook" which has been upload it to your learning log under the section "Professional Conversation" with the title "The ES Workbook".  Available here: www.bradfordvts.co.uk/edsupervision

Make sure you have

MORE than the minimum number of CBDs, COTs/Mini-CEXs. The assessments should also show competence levels appropriate to your stage of training and demonstrate progression and improvement over time.

Make sure you are making good progress with your

CEPS.

Make sure you have a good number of

log entries for them to look at.  Also be certain to make sure that there is a variety of entries (like clinical encounters, professional conversations, audit/projects, significant events etc).   Your entries need to show a good depth of reflection and analysis- like focusing on your own attitudes, ethics and core values as well as the knowledge and skills domains.   And get your trainer or Clinical Supervisor (e.g. hospital consultant) is reading them AND that you're mapping them to the curriculum statement headings and that they're mapping them to the professional competency domains.

Make sure you are using your

PDP – and making the most of it. This should list identified learning needs, realistic ways to meet them, and show that some of them have been met.
If you want to be confident of a smooth progression through the panel process you should aim to have more than the bare minimum of entries in your portfolio. This additional material may be from additional assessments if they are appropriate, or it may be things that demonstrate thoughtful consideration of your learning needs and appropriate measures to meet them.  Remember, a lack of evidence means ONLY YOU MISS OUT and the panel may ask you to repeat your last 6 months!
If you have any queries, contact the GP Scheme Administrator.
The GP HEE school (formerly known as Deaneries) need to complete their panel processes for their ST3 trainees 6 weeks before your end training date so that CCTs can be issued on time at the completion date.   If you are completing your training programme at this time it is essential that you protect this month in your diaries in the event of an invitation to a panel review. Failure to do this may lead to a delay in your application for a CCT and compromise future employment. In other words, DO NOT BOOK A HOLIDAY DURING THIS TIME
Got any suggestions or advice?
Got any advice? Anything we've missed? Anything that you think is inaccurate? Then leave a message below. Got a resource to share: contact [email protected].
'Make GP Training Better Together'