NEXT LIVE RCA WEBINAR EVENT
PRE-RECORDED RCA TRAINING WEBINARS
These collection of 4 training videos (about an hour long each) have been highly rated by previous trainers and trainees.    These training videos are good for BOTH trainees and their trainers.   Trainees – you will truly understand what the RCA examiners are looking for.   Trainers – you will understand how to help your trainee and assess their videos more reliably with an RCA construct.   (Trainees – point your trainers to this page).
The information has been collated from a group of RCA examiners – not just one!   And they contain examples of how to do things (including Ram role-playing with himself.)
PASSWORDS NEEDED FOR THE FOLLOWING
(click pink button below to pay)
Data Gathering + InterPersonal Skills
Clinical Management + InterPersonal Skills
The RCA Marking Sheet – part a
The RCA Marking Sheet – part b
Bradford VTS RCA webinars
"I love the way Ram demonstrates things - playing both the patient and the doctor. Quite exceptional"
"You can see how Ram is passionate about the RCA and GP training in general. It really helps to keep you engaged"
"Wow! These webinars have been a real eye opener. I didn't know half this stuff. I now feel much better equipped and a more hopeful".
"Ram's analogies are great. Very inspiring. And so much helpful and useful bits of information"
"Where do I start. I strongly recommend watching all 4. There are some repetitive things in 3 & 4 that are mentioned in 1 & 2 but there's a lot of new information too. Besides, it is good to have bits re-emphasised"
"This is a deep-dive into the RCA. There's things in all 4 webinars that no-one has ever told me before. Not my trainer, not my TPDs. Serious worth watching"
"Oh my word. I've watched the first two - and I am blown away by the amount of practical advice and demonstrations. The website RCA page on Bradford VTS is amazing too. Check it out. Love the way Ram acts out the scenarios. Makes everything more real and do-able. Thanks"
"6 hours is a long time. But watch each one bit by bit. Say half an hour each day. I found it easier that way. But it is worth going through them all.... incredible points."
I really struggle with on the spot examples and Ram does an astonishing job of demonstrating the skills. Lots of little nuggets of useful information. I am actually looking forward to start recording now!
For Sept 2021 onwards… 
Breast lumps will no longer be considered for the mandatory criteria of maternal and reproductive health unless specifically presented in the post-natal context.
Clinical examination will no longer be a mandatory criterion;
Safety-netting will need to be 'appropriate' and 'realistic'.
All submissions will be extended from 10mins to 12mins. 
To support Trainers and Trainees, a document will be created for the training community illustrating the reflections of the examiners about what behaviours and topics do well and vice versa.   The marking descriptors will be reviewed to ensure that they are still appropriate and if necessary, amendments will be proposed.
Pre-recorded 4 x RCA webinars
Please do sign up to watching the 4 recorded videos on the RCA.    The feedback from trainees and trainers says very useful practical information and demonstration of exactly what is required in all three elements of DG, CM and IPS.  Past trainees and trainers strongly recommend watching the pre-recorded RCA webinars AND attending the next live event.  
This table has been taken from the RCGP website.   It shows the differential attainment between different groups.   
Exam

Pass Rate (UKG) %

Pass Rate (IMG) %

Pass Rate (White) %

Pass Rate (BAME) %

Pass Rate

(Female)%

Pass Rate (Male) %

AKT

82.5

45.4

88.1

73.1

76.2

68.7

CSA

89.6

44.1

94.6

81.5

84.0

70.0

RCA

91.6

49.6

97.3

84.9

81.4

64.5
BVTS RCA webinars now available online!!!
Online courses with Dr. Ramesh Mehay
THE BRADFORD VTS RCA WEBINARS
Bradford VTS has produced 6 hours worth of material to help educate you about the RCA.   These have been derived from the successful series of RCA webinars that have been run.   
To make them easier to watch, we have broken them down into six 1-hour tutorials.
There are two 1h tutorials in webinar 1 & 2 and one 1h tutorial in each of webinar 3 & 4.
RCA webinars 1 and 2 focus on the 3 domains – Data Gathering, Clinical Management and InterPersonal Skills.  Webinars 3 and 4 look at the marking sheet in detail – and the subcomponents which make up these 3 domains. 


RCA webinar 1 focuses on Data Gathering and Interpersonal skills.  
RCA webinar 2 focuses on Clinical Management and Interpersonal Skills.
RCA webinar 3 – focuses on each of the Data Gathering subcomponents as detailed in the marking sheet.
RCA webinar 4 – focuses on each of the Clinical Management and Interpersonal Skills subcomponents as detailed in the marking sheet.

We have edited these videos so that "unfocussed chitter-chatter" is removed.
We have annotated the video clips to help emphasise and help you understand things.
There is a lot of other information in all four webinars – especially practical hints and tips.   
And there are demonstrations on how to do certain skills. 
We strongly recommend watch all 4 webinars.    If you are unsure, at least consider watching webinar 1 and 2 first. 
Data Gathering + InterPersonal Skills
Clinical Management + InterPersonal Skills
The RCA Marking Sheet – part a
The RCA Marking Sheet – part b
Their is a £33 charge for each video, which in the grand scheme of things is not much.  But proceeds to help to fund the Bradford VTS website and continue the good work we do.
Ram's RCA Top Tips & Help Files
10-15 mins Before the Call
Sometimes, admin staff will put on the screen some idea of what the call is about e.g. "swollen leg".   If this is the case, then think about differentials and clinical avenues to explore. Jot them down on a blank piece of A4 to help organise your mind.   DO NOT MAKE EXTENSIVE NOTES – it will distract you.  Just 1-2-3 word notes.  And space them out onto the blank sheet of A4.  Don't just scrawl them in a little tiny corner!
DOWNLOADS
GPN = GP Notebook.     Don't spend too long here.  Only 5-10 mins.  Remember,  you know most of this clinical stuff.   The reason I am asking you to SKIM READ through something like GP Notebook or CKS is simple to help you PICK OUT THINGS YOUR MIGHT FORGET or to simply HELP ORGANISE YOUR BRAIN so that the consultation is done in a structured, comprehensive and safe manner.   After all, this is what the RCA examiners are looking for – that you are structured, comprehensive and safe – they are more interested in this than you covering every single minute detail.  
So, skim-read things like
Differentials or Clinical Systems to explore
Essential Hx for above
Red flags not to miss
Latest Guidance (CKS/GPN)
But remember – the aim is to to fill in your gaps, not to review what you already know!
LINKS
You may find it helpful to make notes before you call the patient after you have looked at their medical records and reviewed the clinical topic on something like CKS or GP Notebook.      Things you may wish to make a note of are things like
Clinical Systems or Differentials to Explore, e.g. for SOB "explore heart, lungs, anxiety"
Clinical History bits not to forget, e.g. for SOB "don't forget PE/DVT", for depression/anxiety: "don't forget suicidal risk assessment"
Red flags not to miss, e.g. "Don't forget meningitis"
The latest Clinical Management advice.
The whole point of jotting things on an A4 was alluded to earlier in point 1 above: 
To help organise your mind OR
To help you remember things you might forget.
Remember, you are not making notes on things YOU ALREADY KNOW, but rather to make notes on areas you might forget about or simply to provide a structure for your mind.   The key is NOT to make your notes too wordy or list'y.   Keep very brief – one or two words is best.  Not sentences.  Otherwise, you will focus on your notes sheet rather than the consultation, and your consultation flow will be ruined, and you will miss essential bits of the talk as the patient speaks (i.e. you will miss verbal and non-verbal cues). And use a new sheet of A4 for each patient.
I repeat – PLEASE PLEASE PLEASE remember to keep these notes brief.    If you make them detailed, you will be more concerned with your notes sheet than the patient and you will miss what they say and the consultation will lose its natural flow.   So, in order to prevent this…
Write 1-2-3 word things down.   
DO NOT write down everything you need to cover.  It will confuse you and you mind will become distracted and lose focus in the "here and now"
Just jot down things that you might forget or things to help organise your mind.
Perhaps a maximum of about 5 items.
Space them out over the whole of the blank A4 sheet.  
Use a brand new blank A4 sheet for the next patient.  You don't want to clutter the next patient with the previous patient's notes do you!
DOWNLOADS
Here are some examples.   Try and see if you can make one of your own that fits in with your personality.
A good example:
"Hello my name is Dr XXXX.   I am one of the GP trainees nearly at the end of my training.   I want to thank you for agreeing to this recording which is for my final assessment.  I will check again at the end of the consultation to see if you are still happy for me to use it. Is that okay?"
If you have a speech impediment:
"Hello my name is Dr XXXX.   I am one of the GP trainees nearly at the end of my training.   I want to thank you for agreeing to this recording which is for my final assessment.  I will check again at the end of the consultation to see if you are still happy for me to use it. Before we start, I just want to let you know that I have a bit of a speech problem – I stammer, so please bear with me.  Is that okay?"
If you have a strong accent:
"Hello my name is Dr XXXX.   I am one of the GP trainees nearly at the end of my training.   I want to thank you for agreeing to this recording which is for my final assessment.  I will check again at the end of the consultation to see if you are still happy for me to use it. Before we start, I just want to let you know that I know I have a very strong accent.  So if there is anything you do not understand or if I confuse you, please stop me and let me know – I will not be offended. Is that okay?"
Try and use 14Fish to do the recording – because their consent process is really easy, smooth and comprehensive.  It means you don't have to do much other than the "opening statements" listed in the point above.  If you are using iConnect, then you will have to do the consent process in full.  And if you show the consent process on your recording, it has to be done properly or there is a risk that your consultation recording can be rejected and you get no marks no matter how good that consultation is!   So, if you talk about consent – make sure you do it properly on iConnect.  Don't worry about time running out – your 10 minutes only starts after the consent process at the point at which you say "How can I help you" or "What would you like to talk about today?"
DOWNLOADS
Only look at the clock occasionally.  I would suggest that in a consultation, you should only have to look at the timer 2-3 times.  No more.   The first thing you are looking for is the mid-point where you need to start moving from Data Gathering to Clinical Management.   After that, your are looking for the 2 minute mark where you need to wrap up, safety-net, follow-up and close.
Remember, you should be moving from Data Gathering (DG) to Clinical Management (CM) at the 6 min mark for 10 min consultations (7 min if you have 12 mins).  HOWEVER, don't wait for this point to arrive, though.  Instead, start wrapping up the DG a minute before (i.e. 5 min for 10 min, 6 min for 12 min).  So, look for the 5 min mark (10 min consultations) or the 6 min mark (12 min consultations).
Follow a consultation structure because it will help provide a framework for your mind to loosely follow.   Frameworks help you cover things…
in a structure way.
in a comprehensive way.
in a safe way – making sure all generic areas of a clinical consultation are covered and nothing big is missed.
in a time-efficient way.
Use whichever consultation model fits in with your personality.   I've developed one specifically for the RCA – but feel free to ammend this to suit your personality or the way you think.
Ram's RCA Consultation Model
   ROLA: ROLA = Rapport (be nice, smile), warm Opening, Listen, (set the) Agenda
   The Story & then Clinical History
   PSO & ICE
  Any preliminary examination worthwhile doing on phone/video?  (not always necessary, especially if you have decided you want them to be seen)
  Verbalise diagnosis/differentials   – give your professional clinical opinion.  
  Further Clinical Ex & Ix
  Mx plan – drugs, referrals etc
  FU & Safety Net (Ram's EDF)   – (i) explain what you EXPECT to happen, (ii) explain symptoms/signs indicating a DEVIATION from the norm, (iii) provide specific FOLLOW-UP advice.
The Pivotal Moment: at around 6 mins for 10 min consultations (7 mins for 12 min consultations), move away from data gathering, state your impression, and move onto clinical Mx.  Phrases like…
"I'll tell you what I'm thinking….."  
"My recommendation is…
A good tip for Clinical Management:
When you are ready to start explaining the diagnosis or clinical management plan, if the patient has shared with you any thoughts of their ideas, concerns or expectations – start with that first before you go on to explaining your own.
  e.g. " Mrs. Smith, I have some good news for you.   I know you were worried about your headaches being a brain cancer and you wondered whether you needed a scan.   The good news is that I don't think you do.   People with brain cancers will get a change in vision or vomiting or fitting episodes and you've not had any of those, which is great.  The other good thing is that on examining you, your brain and nerves seem to be working just fine.   I do have a good idea what I think it may be and what we should do.   Would you like to hear my thoughts?"   
(NB How can she say no? LOL).
DOWNLOADS
What can you show on video?
This has recently been changed.   Now, it is permissible to show flesh on the video recording PROVIDING there is no showing of the private areas.   The private areas being the area where a male wears shorts, where a female wears a bikini and where a baby wears a nappy.   In other words, don't show female breasts.  Don't show the genital area.   Don't show bums.  
I hope the diagram on the right helps.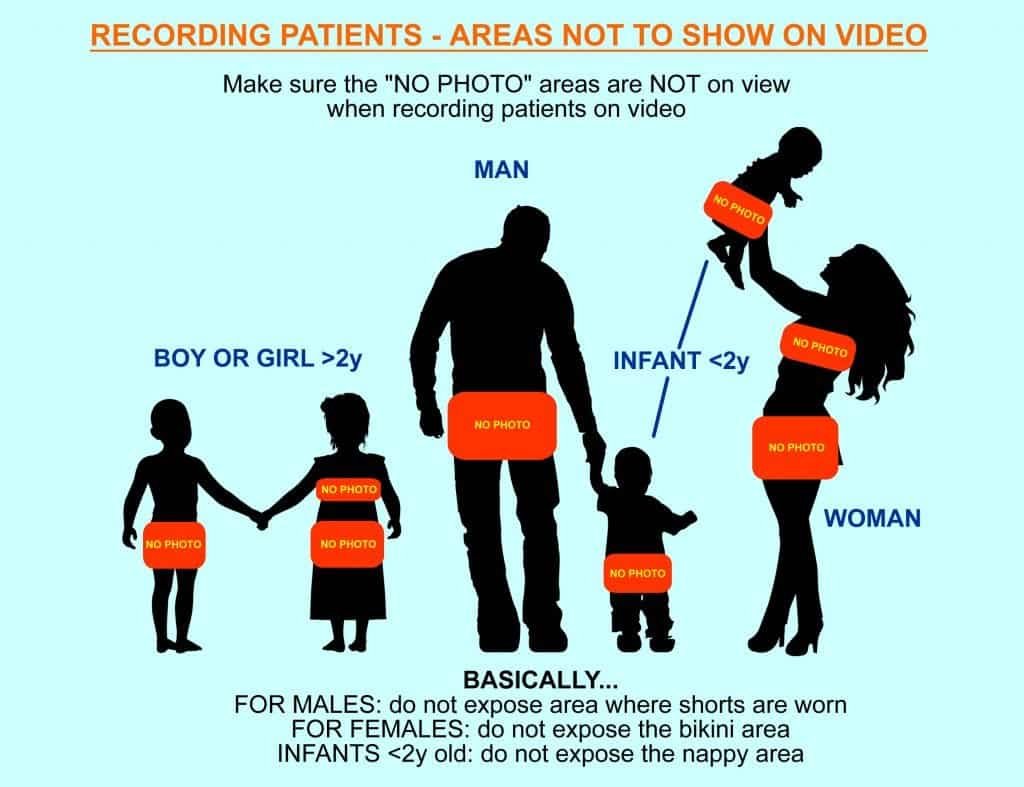 The next LIVE RCA webinar with Ram
Dates: Sunday 3rd January 2021
Times: 530-8.30pm
Cost: £65 

Places are limited.

If you would like Dr Mehay to run another one, email him on rameshmehay@googlemail.com and specify when you think would be a good time.
Practical Set Up Tips
Consultation tips and tricks
Complexity of cases – choosing the right ones.
Truly understanding the Marking Scheme and what the Examiners are looking for.
How to perform to get the marks.
Doing examinations.
Describing Clinical Management.
Top Tips in Data Gathering
Top Tips in Clinical Management
Top Tips in Interpersonal Skills. 
Demonstrations.
A marking sheet – for you and your trainer
Ask your questions session.
This plans to be an interactive set of webinars – not just me talking throughout.
Ramesh Mehay runs webinars when there is a need.   He doesn't do them often but if there is a great need he will do them.    He has done two highly successful webinars to date.   Their success is because he covers things they don't tell you – things not on websites.  And the other reason is because he demonstrates how to do things in a variety of ways.   He will show you ways that are acceptable and he will demonstrate things that trainees do which are not acceptable. 
So, if you want Dr Mehay to run an RCA webinar, please place your request through the comments box below.  Say which month.  Say which week of that month you would like it.  He will then try and pick a week that is good for the majority.
We would be most grateful if you do not share passwords for things you have purchased on this website with your friends and colleagues.   This is for one main reason: Bradford VTS doesn't get much money from external sources.  In fact, a lot of the funding comes out of our own pocket and contributions from kind people – mostly your trainers.
We try to keep the site as FREE as possible, and occasionally we ask for money for just the odd resource here and there.    We rely on this little bit money to help fund us.   We don't ask for much as you can see – compare it to the 100s you pay for exam courses!    We hope you think we are fair and reasonable.
Also, we should let you know that sharing passwords may result in the online software blocking you if it sees another person is using a password that is only meant to be for you.    We would hate for that to happen to you.   Especially if you are looking forward to joining us on a password enabled Zoom webinar.
At the end of the day, Bradford VTS was created for one main reason – to simply share ideas, knowledge and skills so we can co-create to produce wonderful new things effortlessly.   Bradford VTS is made with  by Dr Ramesh Mehay and others.  It is an unfortunate fact that most of our funding comes from GP trainers and very little from Trainees.  If you would like to change this, then please click on the contribution page here.
Marking RCA videos (for trainees & their trainers)
Please use a proper RCA marking sheet when assessing RCA consultations.   
I see many people do this: They look at the RCA recording in terms of 3headings – DG, CM and IPS.  They then decide how good it was in each domain by their rough gut instinct.   This is NOT a good way to assess RCA consultations.  This method produces high false passes that will not be mirrored by what the RCA examiners give.
Instead, use a detailed marking crib sheet – see rca marking sheets on the right.  This is the same sort of proforma the RCA examiners use.  In other words, YOU HAVE THE ANSWER SHEET provided for you.  If you follow it, there should be little chance of going wrong.
So, in summary, always use a detailed RCA marking sheet and not just guestimate from your inner gut feeling.   Look at the components of what makes a case pass and what makes a case fail for each domain area (DG, CM & IPS).  If you do this, you are more likely to be in synchrony with the RCA examiners.
A special message to GP trainees.
Some trainers will be reluctant to give you a mark out of 3 for each of the domains when watching and assessing your RCA consultation.
This is because they have been asked (by higher authorities) not to give marks as they are not trained RCA examiners and more importantly so that you, the GP trainee, does not blame them if you fail.
But equally, we appreciated that it is difficult for trainees to bench-mark themselves and know how good they are if they are not given an idea of marks.  Especially as trainees are relatively new to General Practice unlike their experienced GP Trainers.
I would therefore suggest, that if a GP Trainer does give you marks, please be understanding that they are giving you these marks to help align your level of analysis and marking with theirs – because it is more likely they will be closer to the examiner's marks than yours.   
Also be mindful of the intention of the GP trainer who gives you marks – to help give you some idea to improve.  
So, if you fail, please do not blame your trainer.  The person who failed is you, because your skills were not up to scratch.  Your GP Trainer's advice is likely to have pushed up your marks, even if you did not reach the pass mark.   You are more likely to have failed more badly if that trainer gave you no advice.
So, please don't blame your trainer.  They truly want the best for you.  They want you to pass.   But whether you pass or not, depends on YOUR skills, not theirs.  The RCA is an assessment of the trainee, not the trainer.
If you do find yourself failing, thank your trainer for the help they have provided thus far, and discuss how to increase your chances of passing the next time around.   Listen to them and your TPDs. 
In no time at all, your 14 Fish account will be full of recordings.    As you and your trainer and reviewing them, it is important to have a good MARKING system right from the start to signal which recordings are really good for submission, which are okay, which one if you are really desperate and which ones are bad.
If you don't have a marking system right from the start, you and your trainer will get into an awful muddle and you will find yourself lost.   Neither you nor your GP trainer will know which are good, which are bad, and which are somewhere in between.  So, follow my system as detailed in the next two columns.   Show this section to your GP trainer. 
By the way, PLEASE DO NOT DELETE ANY OF YOUR RECORDINGS NO MATTER HOW BAD YOU THINK THEY ARE UNTIL YOUR TRAINER HAS SEEN THEM  – because sometimes you will think it is bad but the trainer will think it is quite good in places.  This is because your trainer understands the RCA marking system better than you.  That is why they are a trainer after all.   And sometimes, you might have done so well in (say) Data Gathering in a lot of the other cases, that it is okay to include one which isn't so great but is strong in CM and/or IPS.
As a GP trainee…
So, I have come up with the following suggestion. Once you have done your recordings, have a look at each one yourself. Remember to look at it from three angles – Data Gathering, Clinical Management and InterPersonal Skills.  What score would you give yourself out of 3 for each of the DG, CM & IPS areas. Now decide if the recording is one of two grades.
(+) Is it a possibility for RCA submission?  Then, under the TITLE of the Case, put a plus (+) before it.  For example "(+) Lady with headaches"

(-) 

Is it really bad?   If so, put a minus (-) in the title.  For example "(-) Man with knee pain"
And that's it.  Now, your trainer can see at a glance ones which you think are okay and those which aren't.   They can focus just on looking at the good ones and see if they are good enough.  
If by the end, there are not enough good ones, they might want to look at some of your bad ones in case you have been too harsh on yourself.  
As a GP trainer…
Start by looking at the ones the trainee has marked with a *.  These are the ones the trainee thinks are okay.  What score would you give out of 3 for each of the DG, CM & IPS areas? Now decide if the recording is one of 4 grades.  (Add the following codes to the title so you can see at a glance which ones are which grades).
(A) 

 means the case is great.

(B)

   means the case is okay.   Use if, by the deadline date, the trainee is short of numbers.

(D) 

 means the case is borderline.   Use if desperate for cases near the deadline date.

(E) 

 means the case is bad.  Don't bother using this one at all. 
And that's it.  The absence of a C grade forces you to make a decision where the case is at – it moves you off from sitting on the fence.   If you do this progressively as you review your trainee's recordings, in the end, near the submission date, you will be able to see at a glance which ones to cherry-pick and send off.  
Seriously, this is just for a bit of fun.   I thought it was quite funny.   But there are elements within this "doctor" that we see in trainees who submit for the RCA.  These things will result in a failure….
Asking closed questions right from the start. 
Being too formulaic – following a "formula of questions" rather than trying to open up the story and understand the narrative.
Not exploring deeper with the patient about their psycho-social circumstances.
A lack of empathy or genuine interest in the patient.
Anyway, watch and enjoy.
Do you have any good RCA resources that you have found?
Have developed a resource of your own?
Please email it to me to share with others via this page.
'Make GP Training Better Together'