The information in these pages is for GP trainees, Educational Supervisors, Clinical Supervisors, TPDs and ARCP panel members. By having everything all in one place, it is hoped that there will be a greater level of shared understanding amongst all stakeholders.  In these pages you will see the Educational Supervisor referred to as the ES, the Clinical Supervisor as the CS and the Training Programme Director as the TPD.
What exactly is Educational Supervision (ES)?
Educational Supervision is 'a positive process to chart an individual's continuing progress and to identify development needs'. It is a forward-looking process essential for the development and educational planning needs of an individual.'  Please don't be scared of these meetings.   Their purpose is to help you along your training journey in order to make it as smooth as possible.    
Its educational aims are to facilitate your personal and professional development through…
Encouraging reflection.
Identifying your educational/developmental needs.
Formulating an educational plan
Other things it does…
It helps

keep you on track

for General Practice, especially when you're in hospital posts.   

It also helps you to develop a relationship with your Educational Supervisor – thus enabling them to provide pastoral support for you when you're facing difficulties.  Of course, this only works if the relationship is one which is built on openness, honesty, integrity and trust.  
Educational Supervision (ES) is a process which involves regular meetings between teacher and learner with support for the benefit of the learner.  It helps identify a learner's strengths but also their difficulties so that these may be helped to be put right within the framework of the objectives set at the start of the programme.  It is confidential (except in defined circumstances), primarily educational and developmental, and designed to help the individual to progress.  it is positive and forward-looking:  giving someone feedback on their performance, charting their continuing progress, identifying developmental needs and putting an educational plan into place.  So, please try to see it as a positive thing.
What's the difference between Clinical and Educational Supervision?
Try not to confuse your Clinical Supervisor with your Educational Supervisor.   
The Clinical Supervisor oversees your day to day work and will change with each change of post.  
Your Educational Supervisor oversees your progress throughout training and will usually remain the same person throughout your 3 year training period.  Their aim is to keep you on track for training (primarily) and help you identify and meet your learning needs
And what about these ES meetings?
By now, it should be clear to you that a key feature of this process is that it is built on a supportive and facilitative relationship between two people.  Taking part in this process should prove rewarding: professional development supported in this way enriches working life, increases job satisfaction and should enable you to respond effectively to clinical, organisational and social change.
The ES meetings are there to help the learner by
Ensuring that they are on track for GP training.

Helping them with

educational planning

and helping them to develop in those areas where there is an

identified need.
Picking up on any difficulties they may be experiencing – whether personal or with the post so that they can iron these out and get the trainee back on track for training.
Communicating to others (e.g. programme directors) whether or not the trainee is doing okay – thereby developing a network of support if they are not.
How many meetings and when?
The following TIMINGS are for full-timers.  If you are part-time, talk to your TPD about the best timings.  
If you're an ST1 in your very first post, then you need TWO ES MEETINGS.  The first of these is an INFORMAL one that should happen somewhere near the start of your post.  The last one should happen in month 5 or 6.
Every other ST trainee is expected to have ONE ES MEETING towards the end of every post.    If you are not moving up an ST year – arrange it for month 5 or 6.   If you are moving an ST grade, arrange it for end of month 4 (because that allows enough time for an ARCP panel to meet and discuss you before allowing you onto your next post).
For the first half of the year (Feb-Aug) month four is usually MAY.  
For the second half of the year (Aug-Feb), month 4 is NOVEMBER.  

It is the trainee's responsibility to organise these ES meetings.  You will not be reminded – so you need to put  it in your reminder system (like a diary) now!

Liaise with your Educational Supervisor EARLY about this meeting.   Don't leave it until the last minute – please remember that your ES has a life too and may have other commitments or have booked a holiday during your last minute appeal!  Don't expect them to be forgiving or drop everything for you not having sorted yourself out!

These meetings are incredibly important.  Without them, YOU CANNOT move onto your next post or your next ST stage.  Please take heed of this warning.
What's covered in the ES meetings?
The meetings will contain summative and formative elements. It is NOT about one or the other – it's about both.  By formative, we mean things to help you develop no matter where you current position is.  By summative we mean making an end-judgement about where you are at and whether you are progressing as expected at your level.  And where are all these summative and formative elements kept?   Answer – YOUR ePORTFOLIO.   That's why maintaining the ePortfolio is incredibly important if you want to progress smoothly to the next ST year throughout GP training.
The types of things the ES will check in your ePortfolio include…
The Learning Log – 

to see

 if you are making meaningful reflective learning entries with adequate coverage of the curriculum and evidence for the demonstration of the 13 Professional Capabilities.

The WPBA tools – like your COTs, CBDs, CEXs, Audio-COTs , Prescribing Tools – to ensure that you're doing the right number of things in a timely way and making effective progress.

The WPBA reports – like the MSF, PSQ and CSR 

 – to see whether these different groups of people are happy with your progress.   Each of these reports are considered to be quite good discriminators of how well a trainee is doing.

Out of Hours (OOH) – to see whether you are engaging in OOH, and writing logs to demonstrate the 6 OOH competencies.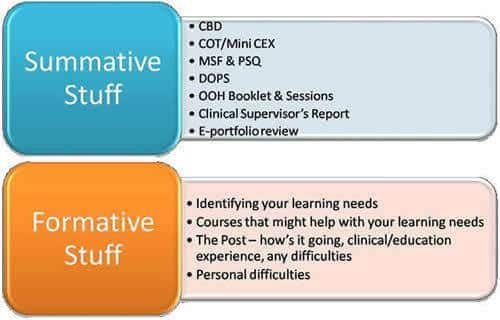 In addition, your ES will also talk to you to see how you are getting on both at work and at home – because one can often interfere with the other – and we all want what is best for you.  The aim is to identify difficulties and help you get to a better position so that you finish GP training both successfully and happily. 
Tell me more about the ES report (ESR)
After discussion and reviewing your ePortfolio, amongst other things, your ES will formulate a report – called the ESR.   This is an incredibly important report because others (like the ARCP panels) refer to it to decide how well you are doing and whether you should progress onto the next ST year.     
The ES report will contain a summary of all that has been reviewed and how you are doing.   In addition, an agreed Learning Plan will be formulated with you and tailored towards your educational needs. Of course, to get a good ESR means your ePortfolio has to be well maintained.  That means writing good learning log entries, doing more than the minimum number of assessments and doing the preparatory stuff that is required of you before your ES meeting (which you can find in the ES section menu link for the trainee – at the top of this page).