Bradford VTS Online Resources:
Trainees or Doctors in Difficulty (TIDs or DIDs)
TYPES OF TRAINEE DOCTORS TEND TO EXPERIENCE DIFFICULTY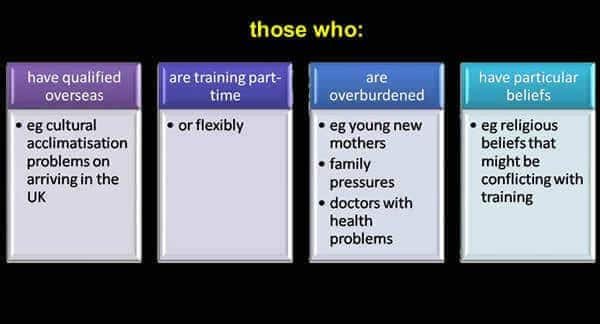 TYPES OF PROBLEMS DOCTORS IN TRAINING EXPERIENCE
If you're a trainee experiencing difficulty...
Please be discuss things EARLY with either your GP Trainer, Consultant, Educational Supervisor or Training Programme Director.   If the issue involves one of these people – try someone else on the list.  The important thing is to aire your problems early to stop them from escalating to exponential levels.   The earlier you talk, the earlier other people can help you.  We understand that sometimes trainees don't feel like wanting to talk for fear of guilt, embarassment, letting people down and so on.  We appreciate that talking to us requires a level of openness, honesty and trust but please be reassured that our Clinical Supervisors, Educational Supervisors and TPDs will be sympathetic and understanding.  They are caring people.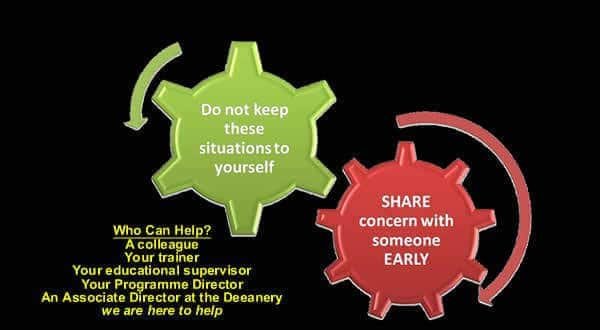 Please make contact with you 

Clinical Supervisor, Trainer, Educational Supervisor and TPD.

  You will find all of them sympathetic and understanding.  Contact them EARLY.  Don't let things brew.  If you are then referred to the Deanery's performance team, please don't be scared about meeting them.   Remember: their job is to try and help you – because they GENUINELY want to help increase your chances of successfully completing the scheme.  But before they can do that, you need to be open and honest with them.   And they will be open and honest with you.  
If you feel your difficulty is impacting on your health, please make an appointment with

 your own GP. 

 If you are not registered with one, now is the time to do it.
If you are unsure as to whether you are fit to work, please make an appointment to see a doctor at your local 

Occupational Health 

Department

.

  They are usually based at the local hospital.   For Bradford: Employee Health & Wellbeing Manager, Lynfield Mount Hospital, Daisy Hill House, Heights Lane, Bradford, BD9 6DP, Tel:01274228570, Mobile 07432721813.   TPDs/Trainers – you can refer via the Occupational Health Referral Template in the Downloads section above.
Advice for Trainers and TPDs
Dear Trainers, TPDs & Consultants…
PLEASE talk to someone EARLY to help implement early remediation and stop things from deteriorating drastically. Remember that there are many sources of support for you too.   
One of the people to talk to EARLY is the trainee.   The other is as another Educator – like a TPD or the Performance lead at the HEE Deanery.
A useful mnemonic is SID – Share, Involve and Document.  More on this below and the pictorial on the right. 
Making a referral to Occupational Health
The more detailed the OH referral letter and details the more likely it is to get a useful answer
Informing the OH department of nature of the trainee's rotation and expected work helps
Use the Occupational Health Referral Letter template in the Downloads section above
At present most referrals are either done by the employer ( e.g. GP practice or employing trust) or by the schemes; the choice seems to be really around who knows the trainee best , and who has greatest need … often the scheme because the concerns are likely to go beyond the current post (and some of the information may need passing on).
So, in summary, it is best done by the person who knows the trainee the best.   This may be the trainer, the hospital consultant or the TPD.  However, whoever writes the report needs to collaborate with others who need to input into the report.
The report is done for the referrer and shared by OH with the referrer and the trainee. Trainees are encouraged to put the OH report on their ePortfolio.  However, as it is confidential material it is appropriate not to demand/ expect full release to this open access forum.  As it contains personal/confidential information about a trainee's illness, it is appropriate to allow some editing.
When making the referral ensure that all other relevant people are informed of the referral and told how to access the report ( e.g. HR dept of future employers, scheme if ref done by GP practice, or GP practice if ref done by scheme, DiD team/ locality office ).  HOWEVER, please remember issues around consent to share the report here – which the GP trainee needs to give first.  DiD = Doctors in Difficulty.
The DiD (Doctor in Difficulty) tutor at the Deanery has a role in checking that OH has been used when appropriate and that relevant OH reports are not lost but are seen, followed up and acted on.  
Schemes do have a co-ordinating role in knowing that OH has been referred to and sharing the information which they have ( provided there is consent to share the details… if no consent then sharing awareness that a report has been done).

Please leave a comment if you have a tip, spot an error, spot something missing or have a suggestion for a web resource. And of course, if you have developed a resource of your own, please email it to me to share with others.
'Make GP Training Better Together'