Bradford VTS Online Resources:
If you have files you would like me to host on here and share with others, OR if you would like to help develop these pages further, then please email me.  
rameshmehay@googlemail.co.uk
Would you like to develop this page?  Contribute to GP training throughout the UK and beyond?   And get your name published on Bradford VTS?  
Email me: rameshmehay@googlemail.com
Problem-Based Learning (PBL) is a teaching method in which complex real-world problems are used as the vehicle   to promote student understanding of concepts and principles as opposed to direct presentation of simple facts and concepts. In addition to clinical knowledge, PBL can encourage the development of essential thinking skills, problem-solving powers, and communication skills. It can also provide opportunities for working in teams, finding and examining research material, and life-long learning (Duch et alia, 2001).
Key principles when using PBL
PBL can be used in a variety of ways.  Some educational institutions use it throughout the entire training course.  Others use them for certain lessons.   The key thing that connects these various uses is the real-world problem.  Any type of subject area can be adapted to PBL with a little imagination. While the core problems will certainly differ amongst disciplines, there are some characteristics of good PBL problems that go beyond fields (Duch, Groh, and Allen, 2001):.
The issue has to stimulate trainees to pursue out a much deeper understanding of concepts.
The issue should call for trainees to make reasoned decisions and to defend them.
The issue must incorporate the subject matter objectives in such a way as to link it to previous courses/knowledge.
If used for a group of learners, the problem needs a degree of complexity to guarantee that the students need to work together to resolve it.
If used for a multi-staged way (i.e not just in one lesson but over the next few lessons), the first steps of the problem should be open-ended and engaging to draw trainees right into the issue.
The issues you plan to use to help develop a PBL lesson can come from a range of sources: patients, professional conversations, other experiences, what's hot in the tabloids, what's hot in the medical journals, films and so on.  Nearly anthing can be reworked to be used in a PBL way.
The following guidelines are adapted by me (Ramesh Mehay) from The Power of Problem-Based Learning (Duch et al, 2001) to the medical world:
Choose a core concept, principle, or principle that is always taught in a given topic area (for example, in Palliative Care – Breaking Bad News). 
Then think about real world isues this presents to most professionals (e.g. doing it in a sensitive way, how to handle emotion, feeling helpless etc).
Now, you should be able to list the learning objectives that trainees should meet when they work through the problem.
Next, establish a storytelling aspect to the PBL you wish to create.  Research it (online, books, journals) or talk to colleagues.   Remember to ensure that there is some motivation for trainees to want to go through the case and solve the problem.   Intricate issues will certainly challenge students to go beyond simple plug-and-chug towards researching, collaborating, discussing and solving it.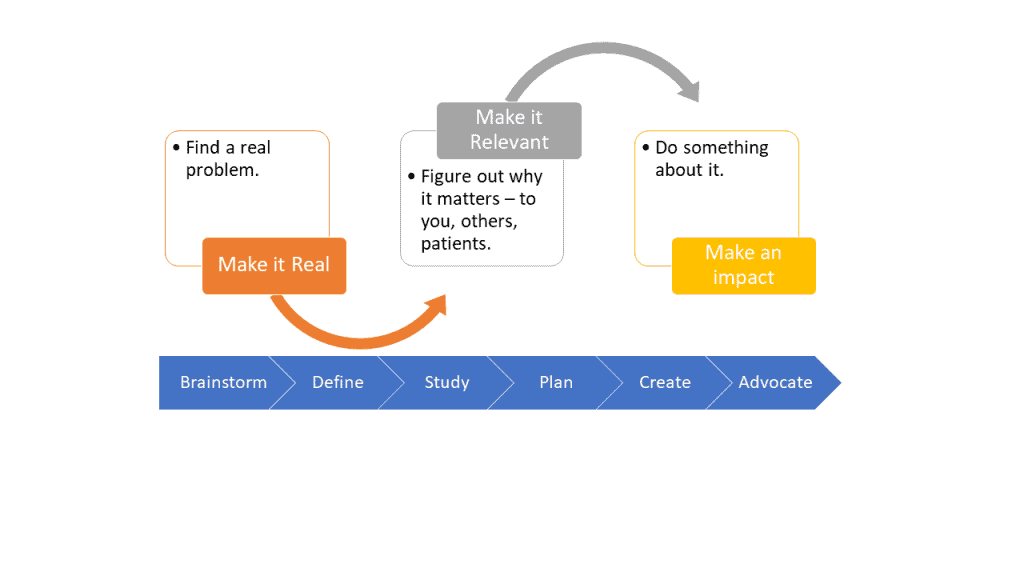 Once you have created "the story", the issue needs to be presented in stages to make sure that trainees will be able to identify learning issues that will lead them to research the targeted concepts.   The following are some questions that might help direct this method:

What will the first page (or stage) look like? What open-ended questions can be asked? What learning issues will be identified?
How will the problem be structured?
How long will the problem be? How many training sessions will it require to complete?
Will trainees be given information in subsequent pages (or stages) as they work through the problem?
What resources will the students require?
What end product will the students produce at the completion of the problem?
Create an educator's guide detailing how to facilitate the session.

If the training session is a medium- to large-size class, a combination of mini-lectures, whole-class discussions, and small group work with regular reporting might be necessary.
The educator's guide can indicate alternatives ways for doing things – intermixing the various modes of learning.
The final step is to identify key resources for trainees. Trainees need to learn to identify and utilize learning resources on their own, yet it can be helpful if the instructor suggests a couple of great resources to get them started. Many students will certainly desire to limit their research to the Internet, so it will certainly be essential to lead them towards other useful resources.  Don't be limited by the net!
Try and include a variety of learning methods within the PBL itself – things like role-plays and simulations, problem-solving bits, research and presenting things to other learners in the group and so on.
Despite the variety and flavoursome ways in which PBL can be used, the heart of the method remains the same: the real-world problem.
Advantages
It is an active process – you learn better with active processes.
It encourages "experience" over what might be thought to be "intuition"
It stimulates self-learning naturally.  It is the way we make decisions anyway. It increases motivation.
It positively aids modelling
It is trainee-directed and trainer-monitored
It helps develop a tolerance towards uncertainty, when it is needed.





Disadvantages
Needs planning
Takes longer than other teaching methods (but learning is better!)
Need good facilitation skills
Other teaching methods are useful too!
Please leave a comment if you have a tip, spot an error, spot something missing or have a suggestion for a web resource. And of course, if you have developed a resource of your own, please email it to me to share with others.
'Make GP Training Better Together'