Trainees - preparing for Educational Supervision
If you have files you would like me to host on here and share with others, OR if you would like to help develop these pages further, then please email me.  
rameshmehay@googlemail.co.uk
3 key things for success with ES
For Educational Supervision to work its 'magic' for you, there are three prerequisites:
That you "open up" and tell your supervisor if there are any difficulties (personal, work or otherwise)
That you be honest (and own up to anything you are responsible for)
That you do all the preparation work that we will talk more about below.
Essential things to READ before your ES meeting
Become familiar with the following pages and documents.  Read them gradually – it's way too much to take in one go.   But this essential reading list will help you with all future ES meetings and preparing for them.
ESSENTIAL READING – IMPORTANT DOCUMENTS
Essential things TO DO before your ES meeting
Dear Trainee,
You will need to provide your Educational Supervisor with some dates for an ES meeting.    This should ideally be done during the last 4 weeks of your post, OR if an ARCP is due on you, in the 5th or 6th week before the end of your post.  As the RCGP stipulate, you (the trainee) are responsible for instigating and organising this meeting, not the Educational Supervisor.  Therefore, please make contact with your Educational Supervisor and do not wait to hear from them first.   Don't forget to provide some dates that you are available.   With enough notice, your hospital or GP post should be able to release you for these meetings.
First of all, read the 

ESSENTIAL READING LIST 

above.   If you've never read these before – READ THEM.   You are missing out and you are making things unnecessarily difficult for yourself because these documents provide everything you need to know!  If you have read them before and can't remember what they were on about – READ THEM AGAIN!
Use one of the

 ES Checklists

 to ensure you have completed everything that you need to.  (See below)
Listed below are ESSENTIAL THINGS TO DO/FILL IN before your ES meeting ensues.   If these are not completed or are done in a "rough and ready" fashion – your Educational Supervisor will not be happy and will probably ask you to rearrange the meeting when it is all done.  Clearly, this would be embarassing for you, does not look good to ARCP panels when it is documented in the ePortfolio,  as well as being a waste of everyone's time. 
And then, don't forget you need to log into your ePortfolio and click on the "Review Preparation" section and carefully fill in YOUR PARTS of the Educational Supervision area.  Do not rush this.  Expect it to take 2-3 hours.  If you've done everything within an hour, either you are super good, or you've written it badly.    The most difficult bit is writing up your 

Competency Self-Rating Scales.  

Please pay close attention to the way you write this up.   If you have done it correctly, it will take you around 1-2 hours.  Follow the guide below.
Don't forget to upload the ES Workbook and Form R.
Your very first ES meeting
THE VERY FIRST MEETING IN ST1-1  (month 1-2 of your post)
There is nothing to worry about at this stage.   Your ES will simply check how things are going for you.  The focus of the meeting will be to get to know you so that both of you develop a good working relationship together  and creating a climate of respect, openness and honesty.  The aims of the first meeting are
To develop rapport and establish a good educational climate – getting to know you as an individual, showing respect, being open and honest (this goes both ways remember).
To synchronise both of your wavelengths – so that you are both clear about what is expected.
To help develop your educational and reflective skills – so that you really understand the different levels of reflection and how you can write up their e-portfolio entries in a more reflective way and therefore learn more!
They will also probably want to get some good behaviours started off early.   For example, they may
Ask you to write a couple of learning log entries – just to provide some educational material to work on at the first meeting.  They will probably use these entries as a platform to teach you about reflection and the art of writing reflective educationally meaningful log entries.    You will need to write about 2-3 entries per week.
Go through the GP curriculum
Discuss the 13 Professional Capabilities – which is the most important thing you need to get your head around – because almost everything is based around these 13 things.   It's helpful to write your log entries around these 13 capabilities because it is these that you are ultimately tested against through all years of your training right up until CCT.
Ask you whether your post is providing you with the enough educational experience and whether you are experiencing any difficulties so that these can be put right.
Highlight educational courses that may help you
Ask you about your home life  and whether it is okay or whether there are added external pressures.   Please be as open and honest as you can.  This is not us being nosey – we are simply here to help make your training journey as easy as possible but we cannot do this if we don't know how things are for you.
ES meetings should essentially be a dialogue rather than a grilling process.   Here are some suggestions of things we encourage you to do before your first ES meeting…
THE SECOND MEETING IN ST1-1  (month 4-5 of your post)
This will be the official meeting where the ES will review your ePortfolio in a systematic and comprehensive manner looking at all things including your log entries, the number of WPBA assessments, MSFs, PSQs and so on.   This is the meeting where the trainee will need to start showing that their ePortfolio is starting to look good.
What's covered in the ES meetings?
The meetings will contain summative and formative elements. It is NOT about one or the other – it's about both.  By formative, we mean things to help you develop no matter where you current position is.  By summative we mean making an end-judgement about where you are at and whether you are progressing as expected at your level.  And where are all these summative and formative elements kept?   Answer – YOUR ePORTFOLIO.   That's why maintaining the ePortfolio is incredibly important if you want to progress smoothly to the next ST year throughout GP training.
The types of things the ES will check in your ePortfolio include…
The Learning Log – 

to see

 if you are making meaningful reflective learning entries with adequate coverage of the curriculum and evidence for the demonstration of the 13 Professional Capabilities.

The WPBA tools – like your COTs, CBDs, CEXs, Audio-COTs , Prescribing Tools – to ensure that you're doing the right number of things in a timely way and making effective progress.

The WPBA reports – like the MSF, PSQ and CSR 

 – to see whether these different groups of people are happy with your progress.   Each of these reports are considered to be quite good discriminators of how well a trainee is doing.

Out of Hours (OOH) – to see whether you are engaging in OOH, and writing logs to demonstrate the 6 OOH competencies.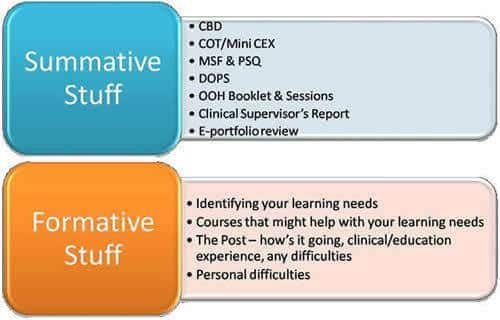 In addition, your ES will also talk to you to see how you are getting on both at work and at home – because one can often interfere with the other – and we all want what is best for you.  The aim is to identify difficulties and help you get to a better position so that you finish GP training both successfully and happily. 
Tell me more about the ES report (ESR)
After discussion and reviewing your ePortfolio, amongst other things, your ES will formulate a report – called the ESR.   This is an incredibly important report because others (like the ARCP panels) refer to it to decide how well you are doing and whether you should progress onto the next ST year.     
The ES report will contain a summary of all that has been reviewed and how you are doing.   In addition, an agreed Learning Plan will be formulated with you and tailored towards your educational needs. Of course, to get a good ESR means your ePortfolio has to be well maintained.  That means writing good learning log entries, doing more than the minimum number of assessments and doing the preparatory stuff that is required of you before your ES meeting (which you can find in the ES section menu link for the trainee – at the top of this page).
Okay, so how do I fill in the ES stuff on my ePortfolio?
Please watch this guide by FourteenFish.  
It will tell you what you need to click and fill in once you have logged into your ePortfolio.
Remember, your Educational Supervisor's Report is an incredibly important document in your training.  It helps ARCP panels decide whether they should let you progress onto the next year.
So, the better you prepare for the ES meeting and record some really detailed educational stuff, the more likely your ES report will be good.
Your ES prep work should take you around 2 hours.   Pay particular attention to the Competency Rating Scales and the evidence you provide for them.  Don't just rush through adding quick one or two line superficial vague statements like "I'm good at consultation skills" – provide the evidence (e.g. as you can see, 5 out 6 COTs were marked competent or above for…."
Got any suggestions or advice?
Got any advice or suggestions?  Anything we've missed or is inaccurate?  Then leave a message below.   Got a resource to share? Contact rameshmehay@googlemail.com.  'Make GP Training Better Together'