This page is for training up Educational Supervisors. If you're a trainee who has stumbled across this page, please don't run away. By all means have a look around – understanding what your Educational Supervisor is expecting from you will in turn help you deliver the 'right stuff'.   This will help your training run smoothly and trouble-free (and that in turn means you can focus on enjoying it). If you're a new Educational Supervisor, please read some other pages in the menu boxes above.  In particular: "Educational Supervision – intro" ad "Trainees – how to prepare for ES".
Educational Supervision is quite an onerous task.  It's not that easy to get your head around it in one go. To make this easier, I've broken it down into its contents and process. You may want to revisit this page over several days rather than do it "all in one go" – it's a bit of a big hit to do it all in one.    To get the most out of this page, please do the tasks FIRST before watching the video clips.  Trust me – you will get more out of it that way.   As for the video clips – they are under 10 minutes long. If you have any suggestions, please let me know ([email protected]). In the mean time, don't forget to switch your computer speakers on. Oh, and if there is a problem viewing the videos at work, try a non-NHS networked computer like the one in your home.
Read some of the other pages first
On these pages, I'm not going to go through what Educational Supervision is and what it is not.   That has already been covered on the page "Educational Supervision – an intro".  If you're relatively new to Educational Supervision, like I said earlier, please read this page.   Also read the page designed for trainers – guiding them how to prepare.  Both of these should help you too.  
THE PROCESS - in a nutshell
The Oasis 7 Stage model outlines some core principles to be mindful of when doing Educational Supervision.  These 7 C's will not only help things run smoothly but also more educationally satisfying for both you and the trainee.
THE CONTENT - in a nutshell
The meetings will contain summative and formative elements. It is NOT about one or the other – it's about both.  By formative, we mean things to help the trainee develop no matter where their current performance position is.  By summative we mean making an end-judgement about where the trainee is at and whether they are progressing as expected at their level.  And where are all these summative and formative elements kept?   Answer – The ePORTFOLIO.   That's why maintaining the ePortfolio is incredibly important point to emphasise to the trainee if they want to progress smoothly to the next ST year throughout GP training.
The types of things the ES will check in the trainee's ePortfolio include…
The Learning Log – 

to see

 if they are making meaningful reflective learning entries with adequate coverage of the curriculum and evidence for the demonstration of the 13 Professional Capabilities.

The WPBA tools – like the COTs, CBDs, CEXs, Audio-COTs , Prescribing Tools and CEPS (formerly called DOPS) – to ensure that they are doing the right number of things in a timely way and making effective progress.

The WPBA reports – like the MSF, PSQ and CSR 

 – to see whether these different groups of people are happy with the trainee's progress.   Each of these reports are considered to be quite good discriminators of how well a trainee is doing.

Out of Hours (OOH) – to see whether the trainee is engaging in OOH, and writing logs to demonstrate the 6 OOH competencies.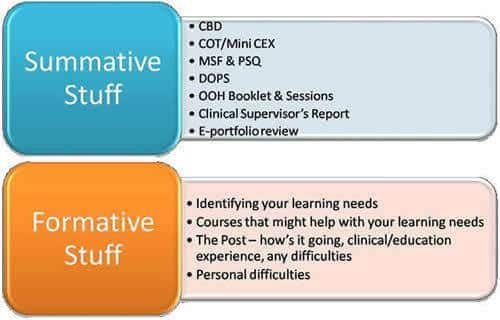 In addition, the ES will also talk to the trainee to see how they are getting on both at work and at home – because one can often interfere with the other – and we all want what is best for you.  The aim is to identify difficulties and help you get to a better position so that you finish GP training both successfully and happily.
THE CONTENT - other things MIGHT be worth exploring
Educational Supervision should explore a number of areas if we truly want to help the individual because all of the things below interact and affect each other – not just the assessments and GP training things.
Their life at work
Their life as a GP trainee (educational needs)
Their life at home
Their life socially
Here are some examples of things that you might want to cover.  Some will need covering each time you hold an ES review but others may be more important when they are relevant.  Some of the data for the discussion might be directly obtained from a dialogue with the supervisee, but you may also need to triangulate this with other data sources like their e-record, feedback from their colleagues, feedback from patients and so on.
Work – things that are going well, achievements, workload issues, learning needs.  Personality issues and relationship problems.  Complaints & Investigations.  Time management.
Educationally – review of assessments – COTs, CBDs, mini-CEXs, multisource feedback, patient surveys, Clinical Supervisor's Report and so on.  Study leave and courses. Career issues.
Home – f

actors (positive or negative) which have impacted on current performance.  Relationships, finances, family life.  Personal/medical problems.   Home-Work life balance.

Socially – Network of friends, social belonging, communities.  Coping with stress.   Alcohol and drugs.
Of course, you wouldn't ask about drugs, alcohol, relationship difficulties or things of that sensitive nature just out of the blue.  Be sensitive.  Ask if it seems relevant or you have an inking there's other stuff going on that you feel you need to explore because it would help with formulating their educational journey.  
Here are 6 videos breaking down Educational Supervision into short little chunks.     Please forgive me – they are pretty amateurish but they do get some of the core points across. 
ES training - you can do this individually, as a workshop or in groups
If you are part of an ES training group or workshop, or even developing one, consider going through the following questions in the session systematically.
Learning Log entries – the number of entries
Question 1: What is an appropriate number of learning log entries for a 6 month period?
Question 2: If a trainee was adding 1 log entry every month,what advise would you give?   What should they be aiming for?   Does it make a difference if they are in a hospital or GP post?
Learning Log entries – the quality of entries (reflection)
Question 3: A good log entry should show good signs of learning and reflection. What is good reflection or learning? 
(Answer found in the ISCE criteria –  reflection levels, iscee and log entries.doc )
Question 4: Look at your trainees last three learning log entries – do they show evidence of learning or reflection?   Compare them using the ISCE criteria.
Question 5: Do the entries give you enough evidence to help you make a judgement of progress?
Question 6: Using the ISCE criteria, what advice would to give them to improve the quality of their log entries?
Curriculum Linkage
Look at the three learning log entries you've just looked at in the previous section again.
Question 7: What do you think about the curriculum linkage by the ST1?
Question 8: Is it acceptable? Are there more appropriate links?
Question 9: If this was your ST1, what advice would you give them regarding curriculum linkage?
Reading log entries
Question 10: Does the Educational Supervisor need to read all the entries in a trainee's eportfolio?
Question 11: How many is enough? How does one decide?
Learning Log – making ES comments
Question 12: Look at a selection of ES comments in your group (say about 5-10 entries).  Can you spot on good features that make the comments helpful?   Are there any bad features?   How might you improve on them?
Question 13: Are ES comments important?  If so, what is their function
Question 14: How often should the ES be making comments?
Question 15: What makes a comment useful/helpful?
Validating against competency areas
Read 2-3 learning log entries from other ePortfolios within the group. Pay particular attention to the competency areas the Educational Supervisor has validating them against.
Question 16: Do you think the ES validation is appropriate?  Which, if any, are not? Are there any that you think should be included that are not? 
Question 17: How many VALIDATED learning log entries should there be per week?
The ES form within the ePortfolio will ask you to review the following WPBA evidence in order to determine how well the trainee is progressing. 
COT/CEX/CBD/OOH mapping sheets 
MSFs & PSQs
CEPS
CSR
There is something called "The ES workbook" (developed by a group of us in the Yorkshire & Humber) that we ask all trainees to fill in before their ES meeting.  It is basically a document designed to pull together all these different bits of evidence, to help you see AT A GLANCE how the trainee is progressing.  Once you take a look at it, you will see what we mean and you'll be grateful that you did.     The ES workbook can be found in the HOT DOCS downloads secton above but it is provided here again for your convenience. 
THE COMPETENCY RATING SCALES
There are TWO competency rating scales in the ES section of the ePortfolio.  One is to be done by the trainee – and is called the self-rating competency scale for obvious reasons.   The other is the same thing but you – the Educational Supervisor – has to fill in.     The reason for the two is to see which bits you both agree on and which bits you don't – which means you can explore those competencies on which you both differ so that you can get to a point of a shared understanding.  By the way, you CANNOT do your rating scale until the trainee has done theirs – so before your ES meeting, make sure your trainee does theirs and does so properly (by properly I mean with care and consideration).
IT IS THESE COMPETENCY RATING SCALES THAT TAKES AN ENORMOUS AMOUNT OF TIME TO DO.  If you feel your ES meetings go on and on and it takes you hours to do, it is because of this area.    If you want to make your ES sessions half the time, easier to do and more enjoyable, then follow my advice outline below. 
First of all, train your trainee to do their self-competency rating scale well.   Have a read of this document and tell them to read it too.


How to find the evidence for the competency rating scales and how to write them up.

Then, if you agree with what they have written and the evidence they have provided, you can write yours up really quickly.   The college does like you writing a one liner statement like "I agree with what the trainee has written".  Personally, I don't see what's wrong with it – if they've written it well and you agree – what's the problem?  So, what I do is write the one liner statement along with a few words of my own to add an additional layer to what the trainee has written.  For example, Practising Holistically might go something like this "I agree with what the trainee has written.  Her CS is incredibly impressed with the way she explores the psycho-social in most of her patient encounters".
Of course, the bits you don't agree with – you would need to expand on.  But this then becomes a lot easier to do and focus on if you don't have to do the same level of hard work on the other competencies (because the trainee has already done them for you).
Link to PDP page
PDP action points document.
Pulling it all together
Show a video of the whole thing
Summary check list for educational supervision.
ES checklists
Making ES quicker - time saving tips
If you have any time saving tips, post them using the comments box below and I will gradually add to this list.   Let's share our wisdom and make it easier for everyone.
In your very first ES meeting with your GP trainee – spend time thoroughly going through a) what is reflection, b) how to write a good reflective learning log, c) what the competencies mean, d) how to write up the self-rating scales.   If you get the trainee "trained up" really well from the beginning, the next 3 years will be easy!
You don't have to write reams and reams.   Remember, your report is for ARCP panel members who will probably review about 15 in a sitting – so they only want good concise entries.
The Light Touch Approach: short, concise and to the point for those who are doing well.  For those with concerns – write longer.
The competency rating scale for me takes the longest – and I am sure for many others.  I used to dread writing this section – because it takes forever and is laborious.  Now, I train the trainee to write it up well, and then I just add "Agree with what the trainee has written" (or not agree) and then add a one or two liner with my own summarised thoughts.  In this way, the trainee provides the quantitative "shop-floor" detail and I provide the "bird's eye" qualitative picture.  
Obviously, in the early stages of training it is unlikely that the GP trainee will be able to provide evidence for "readiness to practise" as a qualified GP.   Therefore each trainee is assessed according to the ST stage they are at.
So, an ST1 is judged according to what would be expected from a trainee at the ST1 stage.  And the Educational Supervisor (with their training experience) will know what is excellent, good, average and poor performance.  
When they reach the final stage of training – the evidence is then considered against the Professional Capabilities framework.   Trainees are then assessed against "readiness to practise" as a qualified GP in all 13 Professional Capability domains.  
Each ES review will lead to a learning plan designed to enable the trainee to collect more evidence of competence and to build up a richer picture of readiness for practice.
It is only in the final year that the standard against which the GP trainee is judged is the level of capability expected of a doctor who is certified to practise independently as a general practitioner (i.e. a qualified GP).
Educational Supervisors are expected to use their personal experience as a GP to judge whether the evidence for each capability area and the totality of evidence indicate that the GP trainee is ready for independent practice in their final year.   Trainees should respect this decision.
It would be useful to explore why he or she isn't doing it.   Often, we assume (quite wrongly) it's because the trainee is being a bit lazy and 'needs to pull their finger out'.   But don't forget, we're talking about young intelligent doctors – it's difficult to get into medical school if your lazy and have a generally laissez faire attitude to life.   There are an infinite number of reasons why they are not engaged with their ePortfolio.  Here's just a small list of possibilities…
Not understanding its value both in terms of assessment (for others) and of recording experiences and reflection (for him) – an attitudinal shift required.
Understands its value but hasn't got into a routine of doing it.   They can't find the time in their busy day job.   The trainee is otherwise disorganised.  They may need an explicit suggestion of a routine.
The trainee is scared of the ePortfolio.  Who will read it?  Is this big brother judging me?  They are not feeling comfortable about writing about their feelings and emotions for others to read (and especially as they don't even know these others).   And especially not since the Bawa-Garba case.
They don't know what to write about (a knowledge deficit).   Is it just clinical type stuff?  What sorts of clinical stuff?   The emotional stuff – will that not make them look weak to others?   Which of their plethora of experiences does they pick?   Linking to curriculum coverage/professional competencies (and understanding what these truly mean).
Not knowing how to reflect (a skills deficit) – how does one reflect?   What does a reflective entry look like?  What is the educational value of reflecting?  'I do it all in my head anyway'.
 So, what can we do as Educational Supervisors?
MAKE SURE YOU ARE EMOTIONALLY NEUTRAL ( or neutralise any negative or angry feelings).
Only then sit down with your trainee.

Establish a climate of openness and honesty.
Define the performance problem (i.e. not recording enough ePortfolio entries and its future implications).
Signpost clearly that you want to help make things better but that you can only do that if you know how things are going for the trainee.
Invite the trainee into a dialogue.   Simply let the trainee speak.
Clarify what they say – try and get a good understanding of their situation.
Jointly formulate some possible causes.
Jointly formulate an action plan to make things better.
Review the situation in a couple of months.
Top Tip: consider using The RDM-p manual to help you establish why a trainee is struggling with writing things in their ePortfolio.   Click here to access that document now.  
In the first instance, your friendly Educational Supervisor will try and help you identify what it is that you need to do to get your ePortfolio and the evidence within it 'up to scratch'.  
Please listen to the feedback that they give you.  If you find the feedback that they give you uncomfortable and difficult to accept, take a deep breath and accept responsibility for it.  Please also remember that it was probably hard for them to give it to you in the first place.  No body likes telling other people about their deficiencies, but the problem is that if no one does, then you never improve.   And you ES will want you to succeed.   So – deep breath, accept it, work on it to become a better you.
The Educational Supervisor may involve other people to try and HELP you.  For instance, they may seek the advice of the Training Programme Directors and even the deanery.   Again, please remember that they're not being unkind by doing this.  They just want to make sure that there is a network of people ready to support you.
And finally, if, after repeated advice you fail to take the advice on board and your ePortfolio continues to show a lack of evidence appropriate to your training stage, then you will be referred to an ARCP panel which in all probability will involve you attending an interview and having to explain yourself.    If ARCPs are not happy with your response, they can make you repeat an ST year and in very bad situations – terminate your training pathway early.   Is it worth that risk?    .
Every year, the ARCP panel will look at your ES reports anyway – irrespective of whether your ES has flagged any concerns.  So please, take your ePortfolio seriously – IT IS AS IMPORTANT AS THE AKT AND CSA.   I cannot emphasise enough how important it is for your to devote time to your ePortfolio right from the start, and take it seriously by showing it the respect it deserves.
What do you think of this page?  Is there anything we have missed?  Anything inaccurate, errors or broken links?  Anything you would have liked included?   Or even ask a question to get a discussion going.  Please leave a comment below and we'll update the page.   If you would prefer to email me or send me something to share with others, contact [email protected]
'Make GP Training Better Together'