How to Organise your Kindle Library of Books into Folders
especially if you've just got so many books and feel so overwhelmed!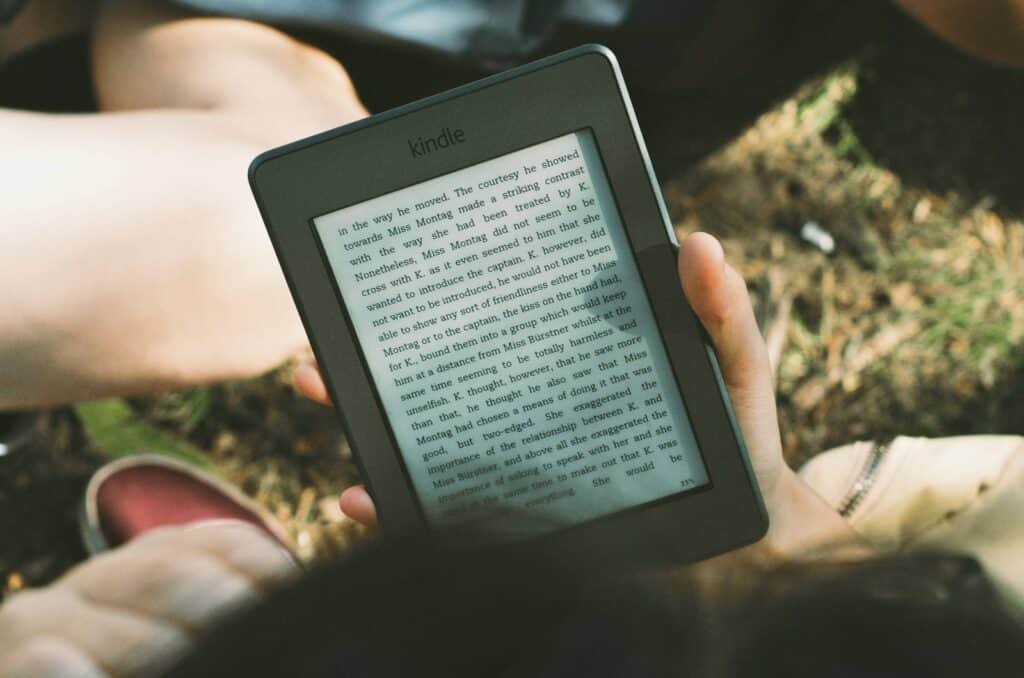 Why would you want to do this?
If you have a massive book collection in your Kindle library, then it becomes a headache every time you open your Kindle app. In fact you may feel, like I do, overwhelmed and underachieving by the constant reminder of all the books you have not read. This in itself will often stop you from using your Kindle library and selecting a book to read (which one do you choose?). 
So the best thing to do, that I find, is to organise my library so that everything does not look like a chaotic mess. Everything looks organised into nice collections and folders some of which will then entice me into looking into them and selecting a book to read. Because I'm not bombarded with a whole list of books that I have not read I am more likely to pick one to read. If you resonate with this or you like being organised then please continue reading.
It's really simple.   Go to your device and open your Kindle 
Close down any open books so that you are on the HOME page 
Now click the LIBRARY tab (again at the bottom).
Click the SORT ICON and select COLLECTIONS
Click the PLUS + tab at the top right to add a folder collection – name it.   For example, I have one for RECIPES. 
Once you do this, it will take you to a page that says "ADD ITEMS TO COLLECTION".   Simply tick (by tapping on them) all the items you wish to go into that collections folder.  You can scroll down to see your entire library.     Click DONE at the top right corner when you are done!
TIPS:

You can alo press and hold on one book item and click SELECT MORE to choose more than one item and add to an existing or new collection.

You can do things quicker by using the search box – in my example, I would type in the word "RECIPE".   
If you have a large library, I would suggest you do this for most of your folders.  
Then, at then end any books that are not assigned are left in an UNCOLLECTED folder which hopefully wont be many and you can assign one by one. Simply hold on each item and select ADD TO COLLECTION.  Voila.

It might take a bit of time at first, but trust me, you only have to do this big task the once.  After that, when you download new books, it becomes easy!
Can you do this from your desktop PC?
You sure can.   Some find the desktop way easier because all you are looking at is the titles and no other visual noise.  However, others say that the mobile view is better because you can tell at a glance from the visual image what the book is usually about.   You decide.
Head over to your Kindle account.  Click the button below.
 The best way to do it is: 

select all the items you want to put into a collections folder – even if you have not created that collection just yet.
 Then click the yellow button at the top called ADD TO COLLECTIONS
Just add a new name for a new collection  OR add to an existing collection (scroll through or use the search bar to find it if you know the name of it).

Alternatively…

Look at the last column on the right under COLLECTIONS
If it has a 1 in it, it means it has an allocation.   
If more that 1 then it belongs to more than one COLLECTION – which you may want to check for validity.
If it has a 0 in it, it means it is NOT allocated.
Therefore, for the 0 ones, click on the down arrow, and select ADD TO COLLECTIONS.  
Then select the collection to add it to OR just add a title for a new collection

And that's it.  You're done.
On the main page, if you look at the right hand COLLECTIONS LIST, you can tell which books have been assigned to a collection and which have not.
Can I add a book to more than one collection
Yes you can.   
Let's say you have a book on Keto Diet Recipes – you can add it both to "keto diet" and  "recipes" collection folders.
EXAMPLES OF COLLECTIONS
age
balanced living
bible
communication
CSA RCA AKT
decision making (clinical)
dental
eating
education
GP
happiness
meaning of life
medical novels
meditation mindfulness
mental health
money
piano
positive psychology
productivity
psychology
publishing
recipes
self talk
spanish
stress, burnout & resilience
stretch & exercise
Please leave a comment if you have a tip, spot an error, spot something missing or have a suggestion for a web resource. And of course, if you have developed a resource of your own, please email it to me to share with others.
'Make GP Training Better Together'
Got any advice or suggestions?  Anything we've missed or is inaccurate?  Then leave a message below.   Got a resource to share? Contact rameshmehay@googlemail.com.  'Make GP Training Better Together'