DOWNLOADS
COT Tools
The Process
Scripts & Phrases:
Generally, we don't recommend memorising scripts and phrases because a conversation between two people naturally flows when they respond to what each other has just said.  Scripts and phrases can make the consultation look artificial or contrived.   However, we've provided them here because we know some trainees would like an 'idea' of the kinds of things to say.  Please develop your own phrases and remember to contextualise them according to the specific situation you are in.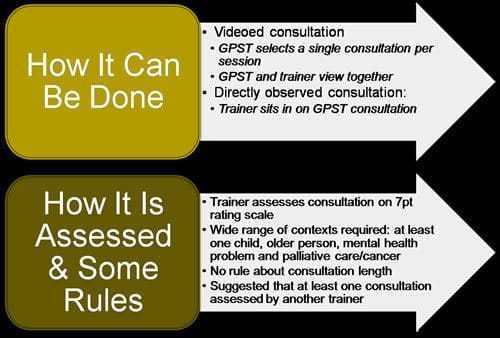 The COT is primarily about consultation (communication) skills.  And you cannot acquire skills without repeated practise – that is the key!  We also recommend getting the following books and DVDs but remember to practise the skills within these resources.  Practising these skills will:
ensure most of your patients are happy (which also ensures they engage with whatever you advise = concordance)
provide a great foundation for building your communication skills and thus
making you a great doctor liked by most of your patients
Here are the resources:
Skills for Communicating with Patients by Jan Van Dalen, Jonathan Silverman, Suzanne Kurtz, and Juliet Draper (the yellow book, not the green one)
There's a DVD out by the RCGP called:  A guide to the Consultation Observation Tool (COT). For all doctors teaching or preparing for the new Consultation Observation Tool (COT) of the MRCGP. It costs around £20. Click here to go to their website to purchase it .
Another DVD/Book package worth getting hold of is Consulting: Communication Skills for GPs in Training, again available from the rcgp online store link above
As with CbD, COT case selection is important as different cases will demonstrate different consultation performance criteria.  And after each COT there will be feedback, recommendations for further development and agreed action which should help you with future ones. Remember, the focus is on progressive development.
Your trainer should add a brief description of the case to the section in your ePortfolio COT form which says 'Title of Procedure'.  It might look as if there's no room to write much, but if you start writing the space will expand for you to write more. There's room for something like '32y old woman with abdo pain, distressed, poor English' – enough for you, the trainer and the panel to know what the consultation was about.
Nearly everyone is apprehensive about showing themselves on video.  It can be very unnerving having someone look at your videos and assess you.   However, remember who is assessing you – it's your trainer who we hope you will see as a warm friendly person who only has YOUR best interest at heart.  They want to help you do even better, but they cannot do that with COTs if you are unwilling to show yourself.
It's also worth remembering that the more you do video, the less anxious it will make you feel as you get used to it.   Most of us are apprehensive at doing anything new for the first few times – remember your first driving lesson?   Things will get better with time, and in the rare chance that they don't, please talk to your trainer.
And finally, you will notice small things about yourself that you may not like on video.   It's important to remember that these things ARE SMALL and it's highly likely that your trainer won't even notice them – you're awareness to these micro-signals are usually heightened and out of proportion.  No one is going to laugh at you!
Please buy through our book links below. Amazon gives us a small percentage which isn't much but helps keep our costs down and keep Bradford VTS free for you.